Island Pool
Today I fished the Island Pool. There was a match on the bottom (Churchill A/C) so I had the option of fishing either the House Pool, or Island Pool. I decided on Island pool as I don't very often get the opportunity to pleasure fish this partcular water as it proves popular amongst match anglers.
After an early start I arrived at Woodside at 07:10 and promptly settled on peg #20. This particular part of the pool is quite narrow in places with one of the two islands in easy reach at approx. 13-14.5m. To my right, the pool meandered its way around the island with two sharp bends, on one of which was a thick bed of lillie pads. To my left, was the second point of the island with open water beyond.
After carefully plumbing the depth I dscovered 3ft of water out in front of me halfway across to the island at approx. 9m; just over 2.5ft of water to my left that very gradually sloped off the further out from the bank I went; and about 2ft to my right. There was a very obvious drop off on my right with an almost immediate 6-8 inch change in depth about 1ft to the left of my chosen line. I chose to fish towards the top of the drop off on my right and approx. halfway down the slope on my left.
My chosen methods were as follows:
Line 1 (to my left) waggler fished sweetcorn
Line 2 (to my right) waggler fished pellet
Line 3 (out in front) pole fished meat
On the waggler fished sweetcorn I was using a standard 13ft match rod (a little light I know, but more fun!) with 4lb Maxima Chameleon mainline with a 3lb 8oz Team Drennan hook length. Hook choice was a size 14 Kamazan Animal (eyed and barbless, of course) underneath a 4BB straight waggler. The corn would be presented
just
touching bottom.
The rig I was using on the pellet line was pretty similar but instead I was using 3lb Maxima Chameleon mainline, a 2.6lb Bayer Perlon hooklength tied to a size 16 Kamazan Animal hook. The float of choice again was a 4BB straight waggler. I would be using 4mm pellet on the hook with a bait band and loose feed 2mm pellets.
The pole was set up more as a back up just in case things got difficult. I chose a number 10 elastic (set soft) with 3lb 8oz Team Drennan mainline attached to a 1.96lb Pro Micron hooklength. On the business end was a size 18 Kamazan B911 hook. The float I chose was a 0.50g Abu Garcia design with short Carbon stem, chunky body and relatively thick bristle. This set up may appear a little light for meat fishing, but the cubes of meat I would be using were only small and my quarry not massive so it was an ideal balance I thought. I would be fishing meat up in the water just in case the weather picked up like it had been forecast.
The day started reasonably well with fish being caught from the off-set from line 2. I was more or less into small Carp, Tench and Roach straight away and was catching one a chuck. However, then the weather changed. The cold wind died down, the sun came out and the fish soon came up in the water. With that, the pole rig was introduced and I soon brought the fish up in the water out in front of me on small cubes of meat. However, even though the Carp were cruising on the top and showing plenty of themselves, they didn't appear overly interested. I switched tactics and began to feed pellet, switching to pellet on the hook also, but still hardly a sniff!?!? By now, there were some HUGE Carp milling around, one specimen easily 20-25lb, but they just weren't interested. I threw some bread out just to see what would happen, but even thought there was
some
interest, they were proving impossible to tempt in any great number.
By this time it was about 13:30. All three swims had completely switched off, despite careful feeding and regularly alternating between them all. At this point, I was really scratching my head - I didn't know what else to try. Eventually, through sheer persistence, the bites started coming again from line 1. However, they were extremely finicky and incredibly difficult to hit.
It was now about 15:30. My "up in the water" swim had not produced anything like I'd hoped it would. The pellet line hadn't produced a fish for the last 3 hours and the bites I was getting to the left were impossible to hit - probably small Roach. It was then I decided to bring the pole rig into the margins and fish how I had been on the waggler but with (hopefully) a much better chance of connecting with the shy bites being on the pole. Sure enough, I connected straight away with a small Roach, then a Perch, then a few Gudgeon - not a good sign. I started to feed heavier in the hope that the small fish would lose interest and move on.
16:30 - Sure enough, the small fish eventually lost interest and the better fish moved in. Disappointingly, the pellet swim never really picked up despite trying on a number of occassions. The swim on to my left however was now producing quality fish one-a-chuck
Within the space of an hour I'd bagged 35lb of Carp to 3lb, Tench to just over a 1lb, Bronze Bream to nearly a pound and a few good Roach. I couldn't believe how I'd had to scale down my tackle to get the bites! Fishing for Carp and Tench with less than 2lb breaking strain line and a size 18 hook is un-heard of at Woodside. The fish are starting to get very cute!
Unfortnately, the session ended with me losing four decent sized Carp after making a dash for the island. I just couldn't hold them on the lighter tackle and was either getting snapped, or the hook would pull. Again, the decent fish were hooked from the swim on the left with next to nothing coming on the pellet to the right. I had a few token F1's towards the end of the session from the pellet line but overall, there was only one swim that was producing the fish
Had I'd landed the better fish towards the end of the day, I probably would've ended the session with 50lb+. However, a modest 35lb was all I could manage on quite a frustrating days fishing.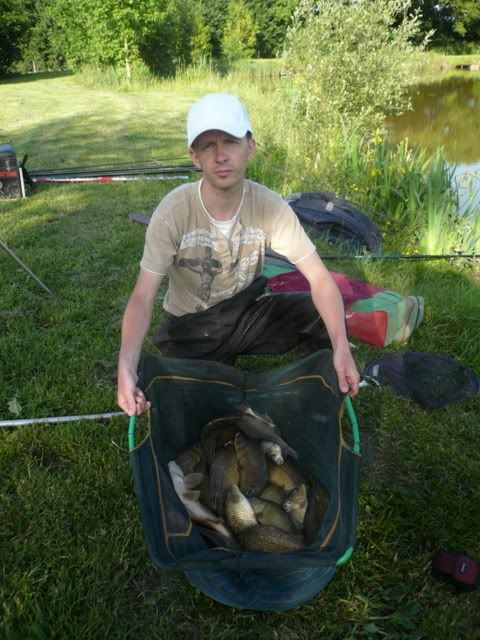 Thanks,
Ben.