Talk Angling Fur and Feather
Hunnington Fishery
2nd December 2007
After a hectic couple of days sorting out the prizes and the usual match paraohenalia, Sunday morning soon seemed to come around I was awake well before the 6-30am alarm call, listened out to see if it was either torrential rain or howling gales, neither seemed to be the case and as their was little traffic up our road I could not even tell if was wet, had the forecasters got it wrong.
I was soon to find out and whilst Jan the good lady wife made a cup of tea I started to load up yes it was raining but not lashing it down and with my gear loaded it was time for the second cuppa whilst I made sure I had everything to hand for running the match.
Just after 7-30 I set of to pick up Bonehillstar and to then make our way the short journey down the M42 by this time the rain was increasing and it looked like we might get a bit wet, just after 8-30 we were turning into the fishery to find a few early birds already there along with the fishery owners Dan and Lesley introductions were soon made as it was my first time at the fishery and a quick chat with the early arrivals
before it was time for a tasty Bacon and egg sandwich and a coffee. With the rain still falling heavily it was time for the few announcements re fishing times and after match presentations the draw was made.
I drew peg 16 on Heron Pool the smaller of the two being used, a minor blip in the administration saw a couple of pegs on Heron that should have read Kingfisher needed to be sorted out with apologies to the anglers concerned.
I was able to unload my gear, a quick chat with the bailiffs indicated that white maggot and not too far out were the orders of the day.
Heron Pool hods 24 pegs and would not be too pressured with 12 of us on there.
I soon found a few familiar faces with Ejayar to my left and Jay411 to my right I knew there was a bit of immediate competition, but I was there for the craic, a quick look around the pool saw TA regulars Royst and MarkC to be contended with as well.
My pre conceived plan of fishing the tip with pellet feeder was changed to a pole attack and just two lines were set up one at around 6 metre and the margins were there was a bit of reed cover but not a lot of depth, the 6 metre line was covered with a .3grm wilkie diamond and a .6 grm wilkie diamond plumbing up found a slight drop off at the 6 metre mark with 6 foot of water.
The all in came too quickly for me to set up the tip rod and a small pinch of micros and a few pinkies were cupped in, first put in saw a indication of fish feeding and it was not long before a small roach was deposited to the keepnet, after about 10 mins two further roach were added
Another pinch of pellet and pinkies were cupped in and almost immediately another roach was added, by this time Jay411 had had at least one carp on his choppy line so it was play catch up time. after about an hour the sun put in a half appearance but the wind started to increase the two together were proving difficult to present the bait and see the bites, but the odd roach was being added mainly to double or treble pinkie, white maggot was tried but the bait was only being nipped, so back to the pinkie and my only bonus fish was added this being a skimmer of around 4ozs. Ejayar to my right had only had a couple of bits when he latched into a lump so I was being battered on both sides but it showed that the carp would move into the short pole line,
With around two hours to go I thought I would have a look see how the lads were fairing on Kingfisher for most it was a few bits and the odd carp, the exception being Curtains who was claiming ten carp to you guessed it pellet feeder, why did I not go with my Saturday plan.
Back at my peg should I put the feeder rod up or continue with the pole, pole, by this time Ejayar was on the feeder and catching a few pasties, with around an hour to go Royst latches into a bit of an animal on the waggler that he fished over his pole line which gave me ample time to fetch the camera out of the motor whilst he was playing it and take a few piccies before the all out
Royst with his barney rubble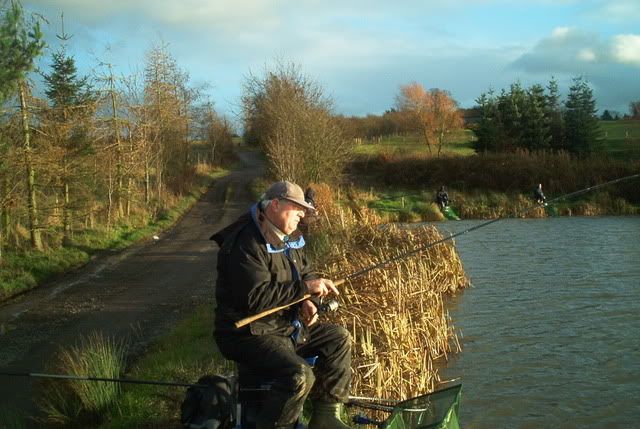 Heron Pool runner up Ejayar

Jay411 on Heron Pool
The weigh in was conducted by he fishery staff which made my job easier all I had to do was fill in the draw cards, as usual there always one who cant fin his this time the honour went to my Bham Civils buddy Big Knob a most appropriate name on this occasion
but Dave took all the slaging of in good part mind you he can give some as well.
Heron pool saw Royst have top weight followed by Ejayar and then Jay411.
Kingfisher Pool was easily won by Curtains with a bag over 42lb, well done Curtains on his win on his first outing with TA.
All that was left to do was to say the good byes to Dan and his helpers before heading off to the local cricket club for an after match pint and do the presentation, which was held at half-time during the Spurs v Blues match and with the bluenoses being 1 up I was happy.
With everyone getting a prize and a few extra prizes in a free raffle hopefully every one went home happy. to those who it was a first time match with TA I hope you enjoyed it and will see you on some more of our future matches, all that was left for me having failed to secure a box of chocolates for which the wife gave me instructions to win was to have another pint and sit down for the second half of the match, I left a happy bunny following a late winner for the Blues.
See you all next year if not sooner.