My 1st visit to Rockells farm this year should have been bag up city as per usual. But on arrival I could see they were spawning! so had my doubts on a big weight. I had my pick of swims as I was the first on there this morning. Decided to fish the far end of the lake on one of the flyers.
There were fish spawning everywhere, and especially near the stream inlet. There were fish under my platform, splashing around and making a right racket lol.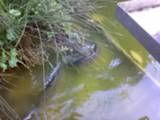 I set up at 3m on the deck, 3 big balls of swimstim and micro pellets was my plan of attack and either corn, meat or expanders for hookbait. I also set up another line down the edge at 2m for my bread/bungee fav'. I decided not to use a keepnet due to the spawning.
I started on the 3m line with corn and was into small carp and the occasional crucian right from the off. I was getting a lot missed bites and put this down to the odd roach I was hooking, so put another ball in to try and feed them off. It worked fine, but the carp stamp was very small and could only put this down to the bigger fish spawning. I loose fed some bread on the short line and small carp were feeding confidently. I kept fishing the 3m line in the hope to get bigger fish but they just weren't having it.
After a couple of hours flicking the odd bit of bread in the edge I felt it was time to give it a go. I started with carp not much bigger than the 3m line (up to 1lb). Keeping up the feed kept them coming and some bigger fish now started to show. A few 5lb fish graced the net, but the spawning was taking its toll and they were too far between. I was starting to get missed bites on the bread too, so decided to make up some expanders for the hook. I was a bit miffed cause' I had left the bloody bag at home!!! I went back out on the 3m line once more to see if any better fish were there but just pasties and crucians.
After a lot of switching and missed bites I decided to call it a day and my estimated weight on the clicker was 123lb. Not a bad weight considering the spawning and I was hoping for at least twice as much! I shouldn't feel disappointed as over a ton is a good days fishing for anyone, but Rockells regularly produces big pleasure weights over the double ton.
My next visit should see all the fish finished spawning and getting their heads down.