My 1st outing of the New Year saw me driving down to
Monk Lakes
to meet up with Andy (The Hat) Spreadbury from the
Maggotdrowning Forum
in the car park at 8am. The weather didn't look to promising
. A leaden grey sky holding the promise of rain, with heavy clouds scudding across at a rate of knots didn't bode well as Monks is one of the most exposed fisheries going, and with the object of the day being to help Andy refine his waggler fishing I felt we could be in for a struggle
.
The original plan was to set up on one of the heavily stocked match lakes, but with matches on all 4 of the match lakes, we elected to try one of the pleasure lakes. A leasurely drive round saw us settle on Bridges, the larger of the 2 pleasure lakes where we could fish 2 adjacent swims with the wind off our backs. Although the temperature was 10°C the wind made it feel like half of that
.
Now the thing is that although I fish Monks fairly regularly, it's mostly one of the four match lakes. Andy and I hadn't fished Bridges since November 2004 when the lake hadn't been open long, so neither of us really knew what to expect.
I was soon set up, having brought my Shakespeare 11ft Micro all set up in its ready rod sleeve, selecting a Drennan 3AA peacock insert waggler fishing 3lb straight through to an18 Drennan barbless carp match hook, with red maggot for bait. Andy was using his 11/13 John Wilson rod at 13ft in more relaxed mode fishing from his chair
.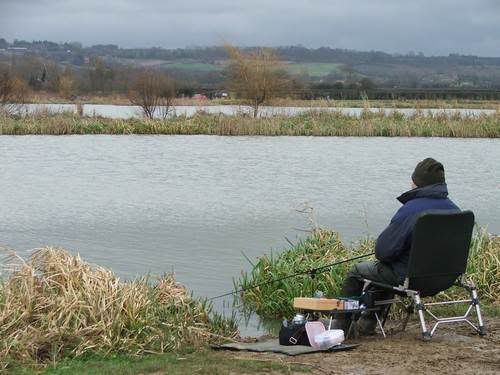 The maximum depth I could find was around 3ft about 25mtrs out towards the island, so a pouch of red maggots was followed by my float as I settled back to see if anything showed an interest. The wind was making things difficult, with Andy having to blacken his float tip to see it in the chop.
Soon my float slid away resulting in a nice plump skimmer of around 2lb in the net and 5 minutes later its twin followed it
................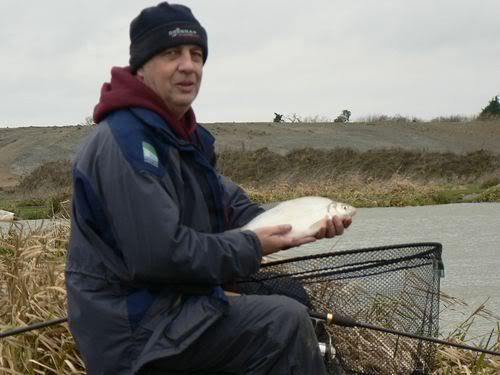 Andy finally got of the mark with a little Ide, not quite what he was hoping for but at least it was a start.............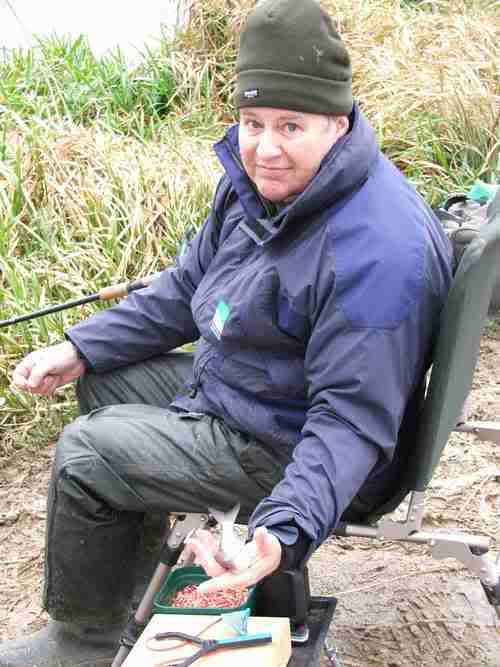 I couldn't help notice that we were getting the odd curious glance from other anglers on the lake as we were the only ones using float tackle, all the others tucked behind brollies or bivvies with the seemingly obligatory pair of carp rods for the larger carp that most anglers target on this lake.
Next up for Andy came a skimmer.................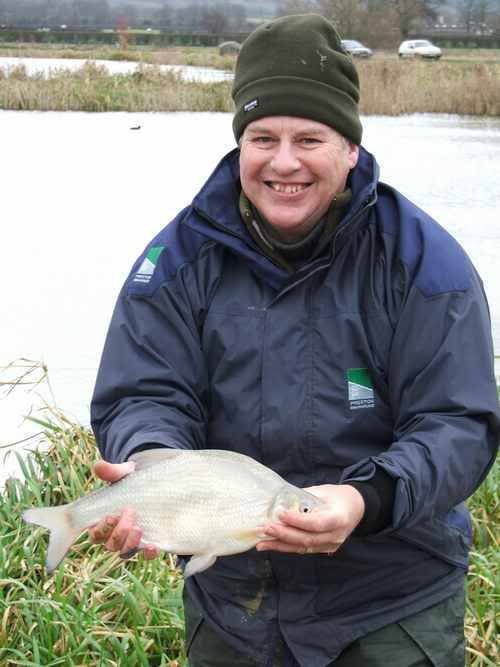 .......... but we were both struggling to put a run of fish together, I seemed to get a couple then nothing for a half hour, indeed despite trying numerous changes the only way I could get a bite was to lay 6" of line on the deck. Finally I managed to connect with something that felt a little different, and it proved to be the 1st of several Chub of around 1lb, good to see as the last time i'd fished the lake they had been freshly stocked at around 4ozs in an effort to provide year round sport. I'm sure they'll drive the carpers nuts as they're large enough now to swallow a boilie
.
Andy spent a while watching me and soon spotted the difference in my approach to his, with my match background I was always doing something, feeding, twitching the bait through my feed and casting more often, whereas Andy with his background in carping was more content to leave his rod in the rest for longer after casting and feeding less frequently.
Around about 1pm I hooked what was obviously a bonus, probably a carp but i'll never know as it just plodded off and shed the hook
.
By 2pm i was getting ready to pack up when Andy was in again............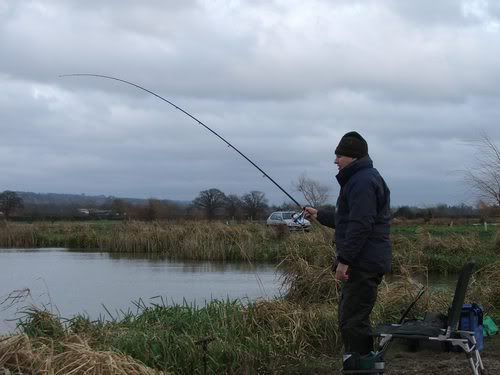 ................. It was soon apparent that this was something better as a carp surfaced about 20 feet out, Andy's landing net was looking a bit inadequate so I acted as ghillie with mine. On the mat it was obvious that the fish was a bit of an old warrior as unfortunately its fins weren't in the best of condition and it had a nasty scar on one gill cover. A quick weigh before it was returned showed 15lbs, a nice bonus fish, meaning that we had both managed around 20lbs of fish during our session
.
With my gear packed Andy decided to fish on for a while, so i bid him farewell after discussing the possibility of a session after Crucians at Marsh Farm later in the year once its warmed up a bit, that should be fun
.
You can read Andy's take on the day
HERE
.