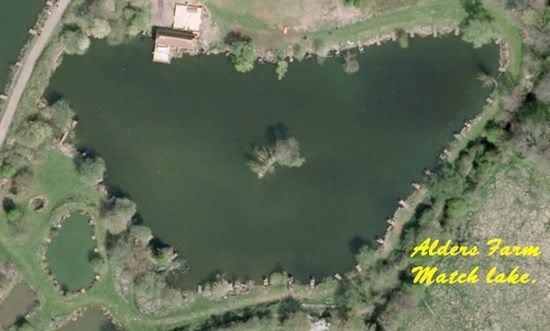 Today saw me making an early start for the 55 mile trip from South London up to
Alders Farm
, just outside the village of Great Brickhill. A good run up the M1 and A5 saw me pulling into the car park just after 8am. Kit loaded onto the barrow for the decent down the hill from the car park and into the pump house cafe for a sausage sandwich and a coffee before the draw.
Now i very rarely fish at Alders, but today was more of an excuse to catch up with some of the
GOT Baits
anglers that I've been fortunate enough to get to know and fish with over the last couple of years. Chatting to Matt Nutt, Gary Thorpe and Trevor Price before the draw the general opinion was that a few fish would be caught as long as you didn't draw down in the corner (pegs 17-21). I was behind Matt at the draw and the look on his face said it all as he saw peg 19 stick to his hand, and I fared no better with peg 17 being my draw.
Matt was kind enough to fill me in on what to expect, and I have to say I didn't feel to bad as I set my kit up. as it was a nice bright sunny day, though the wind that was blowing into our corner kept it pretty cool. I set up a couple of kits, rigged with MW Diamonds to fish at 13mtrs and 7 mtrs, and with peg 18 not being in another to fish down the edge towards 18 where i would just keep trickling a little bait in for later in the match. I also set up a feeder rod with a small maggot feeder, though with not a lot of water to aim at in the corner it wasn't a real consideration.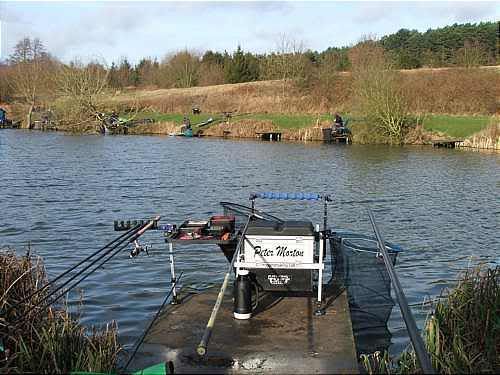 Baitwise I had some soft hookers, red maggot and sweetcorn with micro pellet for feed. 10am and all in saw a small pot of micro's with with a pinch of maggot and 6 bits of corn deposited on the 7 and 13mtr lines with some corn and pellet going in next to peg 18 in the margin.
Nearly 3 hours in and all I had to show for my efforts were a few microscopic Rudd while the young lad to my left on peg 16 had managed a solitary Carp on the feeder.......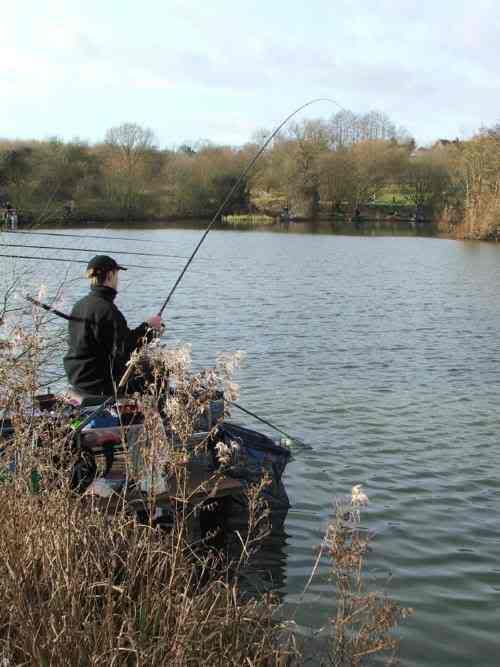 Matt was plugging away on 19 but at the time was faring no better, despite being familiar with the venue, with just a couple of the forementioned micro Rudd himself.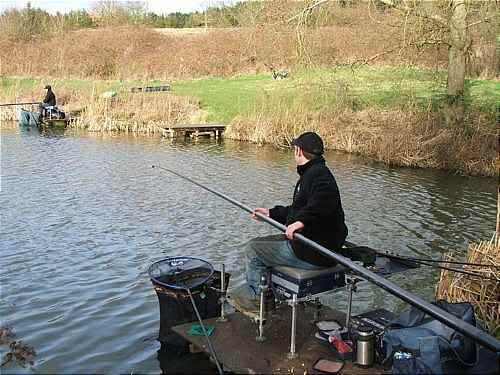 Lookng around the lake, I could see that Matt's prediction was coming true with other anglers getting amongst the resident Carp. Nobody was bagging, but at least most seemed to be getting one or two. Looking across to Matt I noticed he appeared to have a fair bit of elastic coming from his top kit
Yes, he was into a Carp, and obviously a decent one, indeed it proved to be a near double. Suddenly my float dipped and I nearly forgot to strike such was the shock
To say that I played it gently may be a bit of an understatement, but I was determined to get it safely in the net. It proved to be only about 4lb, but it was most welcome. Matt even managed to get a similar one while i was playing mine without me noticing, so carefully was I playing my fish.
It would be nice to say that it was the start of a decent last couple of hours, but that was it for both myself and Matt
We didn't get another bite between us for the rest of the match. At the end Matt's fish gave him just over 14lbs while my solitary Carp and a few tiny Rudd made just 4lbs 3ozs, while poor Trevor Jeans on 21 suffered the dreaded DNW. The match itself was won by Gary Thorpe on peg38 at the opposite end of the lake with 10 Carp that he'd caught at 14mtrs on corn and pellet for 58lbs 14ozs.
Keith (gandhi)
popped down to watch the weigh-in and he was kind enough to carry both mine and Matt's rodbags back for us. A bit of banter with the lads in the car park brought the day to an end while Trev was kind enough to let me have a couple of samples of as yet unreleased
GOT Baits
products for me to try. Not the best of days for me fishing wise, but a good crack with Matt for company and I'll definately be going back to Alders, though I may wait till it warms up a bit 1st and the Carp get a bit more spread out and re-discover their appetites.