Well today was the day of Matt Nutt's match at
Alders Farm
in support of
The Disabled Angler.co.uk 2007 Charities Championship
, which this year is aiming to raise funds for
Macmillan Cancer Relief
and
Rainbows Children's Hospice
. It's days like this that show just how the internet brings like minded individuals together for good causes, with members from Maggotdrowning, The Danglers, The GOT forum and Total-Fishing amongst those attending on the day.
A foggy trip down meant that I arrived at about 7·50, just in time to get my tackle together and head down to the fishery café for brekky and a chance to view one of the more off the wall fundraisers on the day. Trevor Price of
GOT Baits
had been persuaded to part with his old faithfull slippers after the lads on the GOT Forum pledged £200+ just to be allowed to burn them at the end of the match
..........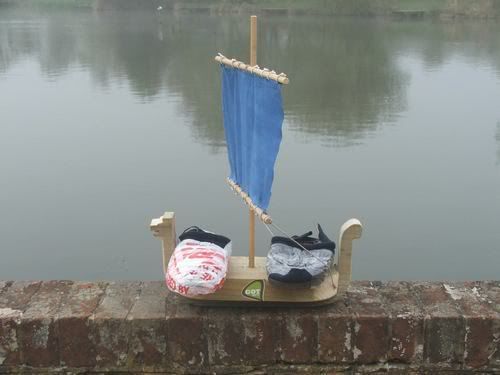 9am and the draw saw me with peg 33 for my match, with Gary Page of GOT Baits for company on 32, Nick Bryan on 34 and Dirk Williams on 35..............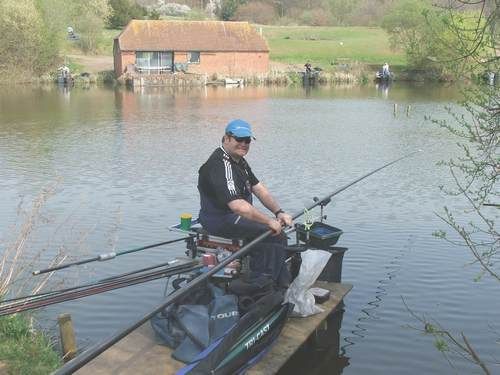 Plumbing up saw me facing pretty much the same as the previous Sunday with just 2½ ft at 12mtrs and a shallow bramble lined bay with maybe 18 inches depth to my right for a margin swim.
The all-in was called at 10·15 and a couple of pots of GOT 4mm sinkers were potted out on the 12 mtr line and a handful into the margin. Straight out to 12 mtrs with a GOT 6mm soft hooker at dead depth and within 30 seconds I was playing my 1st fish of the day, a small Carp of about 2lbs . Indeed the 1st hour went well for me with 10 Carp finding their way to the keepnet all falling to pellet fished at dead depth allowing me to keep pace with Gary on 32.
Nick on 34 however was suffering one of those matches
..........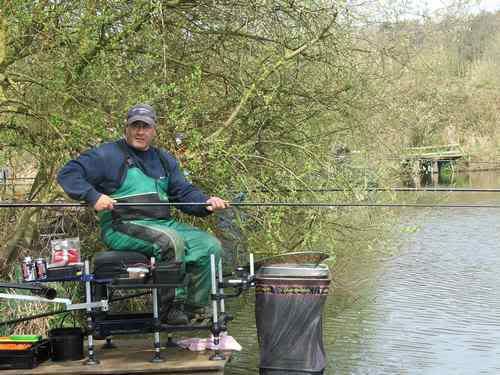 The Carp in his peg were obviously related to Harry Houdini, slipping the hook on numerous occasions, Indeed 1½hrs into the match all he had to show for his efforts were a couple of tiny Rudd
.
Unfortunately after my good start things slowed down, I would get 2 or three bites allowing me to nick the odd fish and would then have to wait 15-20 minutes for another run of bites. Gary however was catching more regularly, although he appeared to be suffering from a few lost fish, probably foul hooked at least he was managing to keep the bites and fish coming.
Further round on 30 Matt was having a bit of a struggle and resorted to impersonating a Japanese Sniper as he tried to winkle a few lumps out from under his marginal bush ........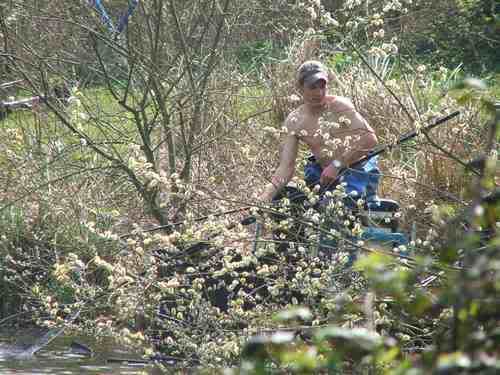 Along on 28 Wayne Panting was getting a fair few fishing meat up in the water (one of the few to catch up) along with Steve Wroe on 29 next door, while further along Keith
aka
Gandhi could be seen doing his best to sneak a few out of his margin.........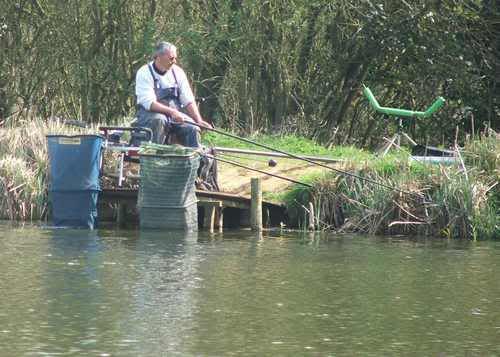 I finally managed to put a run of fish together in the last 40minutes, just a bit to little to late, and with the all-out called I knew Gary had battered me off the next peg. The weigh-in just confirmed it, my 25 Carp totaling just over 63lbs while Gary put 114lbs 11ozs onto the scales for a comfortable win.
Wayne from The Danglers had had a decent day on his 1st visit to the fishery, the scales recording his weight at 81lbs 7ozs for a very creditable 2nd overall..............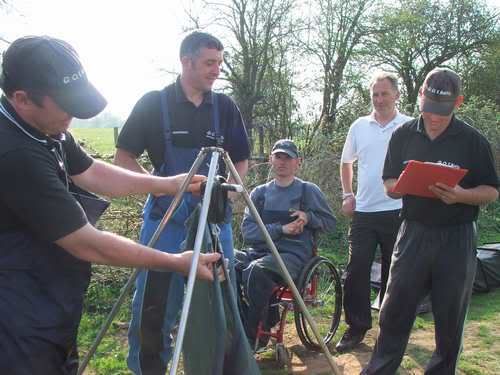 Back to the café for the results and a raffle and I was pleasantly surprised to find that I had won my section thanks to Gary taking the win [
].
The really good news however was the presentation by Matt of the proceeds of the day.......
£1417 !!!!!
with the promise of more to come in, which was gratefully accepted by Dirk on behalf of Disabled-Angler.co.uk.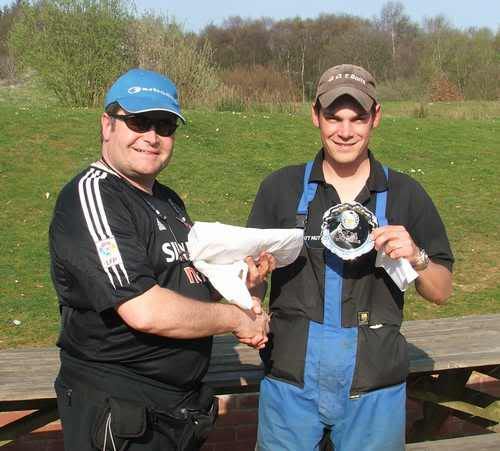 All that was left was to give the send off to Trev's slippers which was done with some style
..............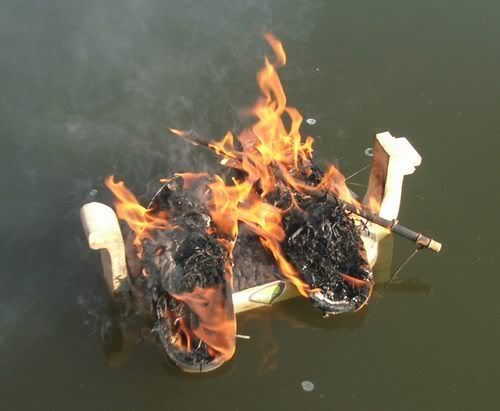 So a great day all round,
A Big Thank You
to Matt for organising the match, and to all the anglers that took part.
I can't wait for next year.