Saturday 28th August 2010 (5hrs)
Weather overcast some sunny spells, light breeze with the occasional shower.
The James Maude Linden Ac lads were off to do battle once again at the prolific fishery called Jansons. Beaver Castle has seen some battles over the years and none more famous than the War of the Roses,
The Vale of Belvoir (pronounced locally as "beaver") forms part of the counties of Leicestershire, Lincolnshire and Nottinghamshire and is right in the heart of the English countryside. The name Belvoir dates back to Norman times and means "beautiful view".
But who would have time to look at the view, with the all in called top kits were being put to the test, first drop in and big weights were on the cards. Keeping up his recent form was Kevin ( Golden) Brown, Kev fished his top two straight out, feeding maggot and maggot hook bait to keep a steady stream of Carp coming to the net to amass a cracking weight of 143lb-4oz in 5 hrs of peg 29 this win puts Kev in a very commanding position at the top of the league, ready to regain his title for the third time. Kev also had a dip in the bag for the golden peg and managed to pull his number out. Well done Kev. Second slot went to Dave Sewell fishing a good match from peg 2 Dave also fished maggot on top two down the margins to bag a good weight of 117lb-6oz, Well done Dave. Third place went to the Worm Master Terry Cheeseman, Terry defied all odds and fished the worm from peg 26 feeding green swimstim micros again on top two down the edge to bag up with 111lb-14oz. A special mention to 4th and 5th places, Dave Lilliman from peg 16 fishing top two and feeding maggot and maggot on the hook to bag up with 111lb-13oz hard luck Dave. And fifth place with another ton was Wayne Jerram same tactic again from peg 37 Wayne saw 103lb-14oz hit the scales. A commendable top five weights all topping the ton mark.
The results are as follows:
Kevin Brown 143lb-4oz peg 29
Dave Sewell 117lb-6oz peg 2
Terry Cheeseman 111lb-14oz peg 26
Dave Lilliman 111lb-13oz peg 16
Wayne Jerram 103lb-14oz peg 37
Kyle Wood 95lb-12oz peg 28
Shaun Green 94lb-3oz peg 13
John Evans 87lb peg 31
Alan Cox 86lb-11oz peg 8
Tony Smith 85lb-13oz peg 39
Pete Lambert 85lb-3oz peg 11
Terry Wiggins 74lb-7oz peg 32
Paul Skeldon 71lb-12oz peg 19
Alan Slack 67lb peg 14 (guest)
Billy Harrison 65lb-2oz peg 21
Ian Carr 63lb-10oz peg 3
Paul Davies 56lb-13oz peg 7
Nick Heath 51lb-6oz peg 1
Sean Hanrahan 41lb-11oz peg 10
Dean Collingham 40lb-14oz peg 34
Lenny Burton 36lb-7oz peg 23
Brian Cox 35lb-8oz peg 17
Ashley Skeldon 32lb-14oz peg 25
Pete Jackson 31lb-9oz peg 35
Laurance Butcher 22lb-9oz peg 5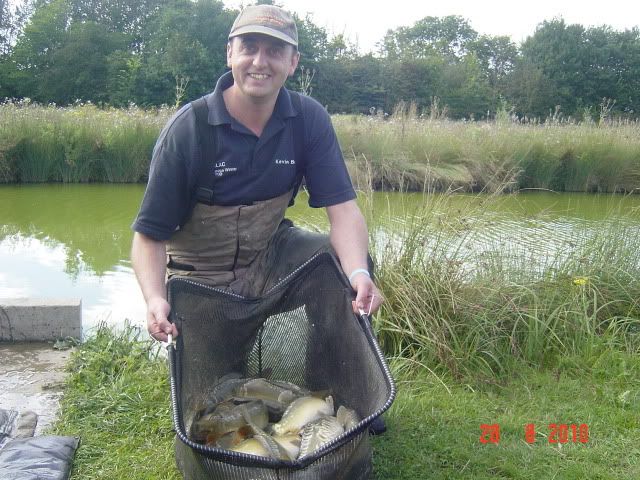 Winner Kevin Brown
So with a combined weight of 1,813lb-7oz it turned out to be our most prolific match this season.
Thank you for taking the time to read.
Next match is 18th September 2010 @ Portland Waters (Canal) draw at 8.45 prompt.
P.S. A special mention to the owners of Janson's fishery. A cracking venue and you really make the lads feel at home, it is always a pleasure to fish at the complex with fish welfare being a top priority of there's very clean and tidy.