Well we didn't do to well, but thanks to everyone that turned out for us
.
I turned up 15 mins before the all-out to be greeted by silverback having his laccy tested by a foul hooked carp, he played it for about 10mins but then all he got for his pains was a scale
.
I spent a few minute chatting with zinky, the only poster on Angling Forums and to say he was disappointed with the venue would be slightly understated. That wasn't ever the best end of the lake and everyone that end struggled.
After the shout I walked along and found Bushy who had been nominated captain for the day.
[IMG]
[/IMG]
The weigh in started with Big Lad Wigan from md's who had struggled for 4 bits all day. I haven't got the weights, they will no doubt be posted soon. The winner was a local lad fishing for Total Fishing
who had been placed on the flier and fished 19m shallow for an easy win with about 171lbs.
[IMG]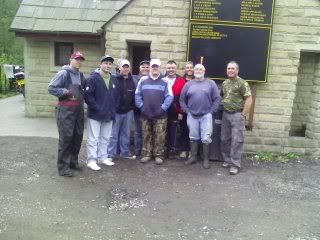 [/IMG]
Here is our team, yes it does look like a pops ac outing, thanks lads
It was good to have a chat with complete tangler aswell, hyope he has a good journey home back to Hull
. I missed matchgaz cos he shot off to watch the match, maybe next time.
Points wise we came last with 20 points (which wasn't helped by limpet tipping back
), you bad boy. He's the one wearing a carrot on his head