Thanks John.
This is my own take on the day.........
Well, a restless night meant that i was up and on the road nice and early on my way up to Ashby Magna in Leicestershire for the Final of The Disabled Angler Charities Championship Final that was being Fished on Trotters lake at Holly Farm.
A smooth trip up saw me arrive at the fishery at around 7·30am to be greeted by the smiling face of Del Rogers (The owner). A quick chat and looking round i saw Stuart Joy, another Southern qualifier pulling in.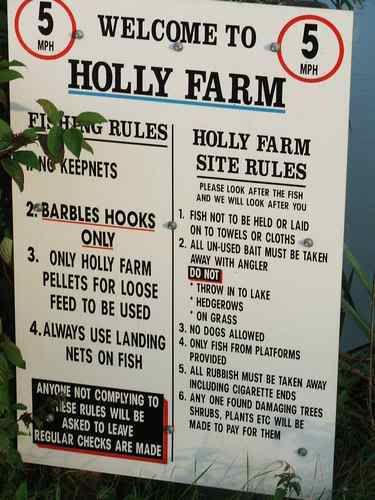 Welcomes over Stuart and I went for a walk round Trotters to try and get a feel for the venue before adjourning to the clubhouse for Breakfast, where we were joined by Darren and a few other earlybirds.
Soon all the usual suspects were arriving, Lucky Wayne with his good lady Sharon and the kids in tow. Bucko and Linda ready to part us all from our cash and various other reprobates, including Vince who was looking for a 2nd victory over me to follow up his success at Lemington.
All to soon it was 9·30am and draw time, 31 for me and 33 for Vince with 32 vacant meant that at least a bit of fun would be had, and after helping Wayne get his kit round to his peg I was soon setting up in preparation for the match.
A small method feeder for tight across was set up, though things were tight with so many pegged closely on a tight bend. Pole for 8mtrs and the margin completed the set up for the day.
11am and all in, and 1st chuck across with the method the tip wraps round and a little Tench of maybe 1lb is soon in the net. Great Start!!!!!!!!
Unfortunately that was it, not so much as another knock or even a liner was to come my way from that line for the remainder of the match.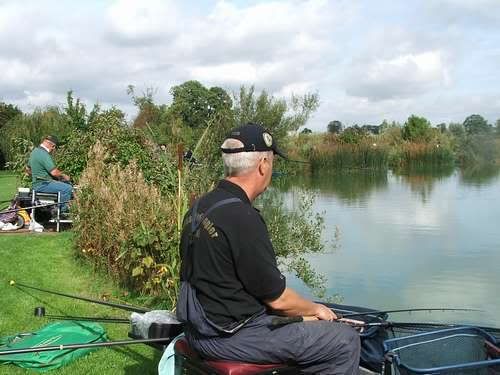 Struggle was the least of it, with just a couple of small roach coming to the various pole lines despite trying paste (2 types) maggot, catmeat, pellet and corn at various stages. Sharon came round and I asked her to have a stroll round with my camera and try and get some action photos. It says it all for how slow sport was that she didn't manage to capture 1 fish being landed
.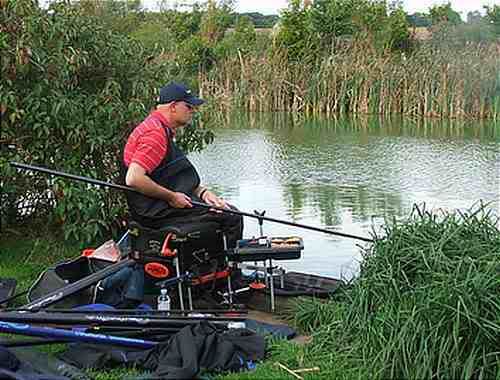 Looking round, nearly everyone in the immediate area seemed in the same boat, though reports were filtering through of others round the other side getting a few.
Vince had managed a couple of carp on the method at the start and was still getting indications, though unable to convert them to fish in the net
.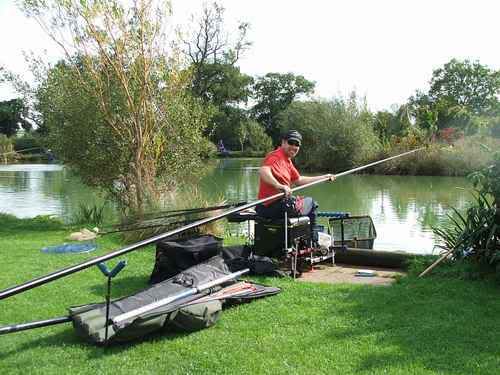 A couple of hours in Lucky Wayne's better half, Sharon came round with a very welcome fresh brewed cuppa, and to be honest it looked like being the highlight of the day, as soon after it started to rain
.
All match long I had been trickling bait under a small bush to my right, and with a couple of hours to go decided to concentrate on it. After 10 mins made off with the corn and there was a healthy amount of black hydro heading towards the island. 5 minutes later and I gratefully slid the net under a Carp of around the 8lb mark
.
That was it however despite knicking a few bits of prawn off Wayne having watched him catch late on, nothing else appeared from under that bush except another couple of small roach.
Weigh-in just provided confirmation of how hard it had been, but at least my 10lbs allowed me to edge out Lucky Wayne by a couple of ounces and double Vince's 5lb
.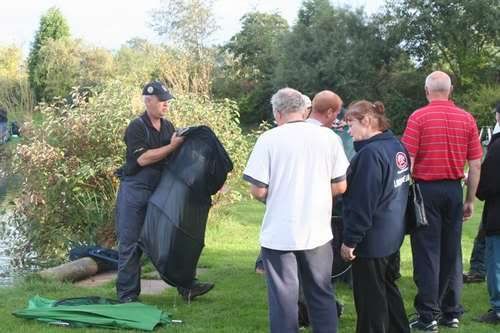 Back to the clubhouse for a meal and the presentations, followed by the raffle, where as usual I appeared to have every number but the winning ones.
All to soon it was time for goodbyes and farewells, followed by a 3 hour drive home. All in all, not the best days fishing.........but it was a great day out, in fine company. Well Done to all the Series Organisers and Competitors who over the series of matches raised £2182 for the respective Charities.
Hopefully we'll be able to improve on that amount next year.