With the weather blowing a gale and light rain i was surprised that quite a few were already in the cafe when i got there at 8.00am.
The first memorable thing to happen was when Rivet came smoking onto the car park in his 3 wheeler...( Del boy Trotter eat your heart out), the problem was that the car had 4 wheels but only three tyres. After swifty getting his mate Budgie410 to get the gear out the car the wheel was soon changed to one of those convenience spares.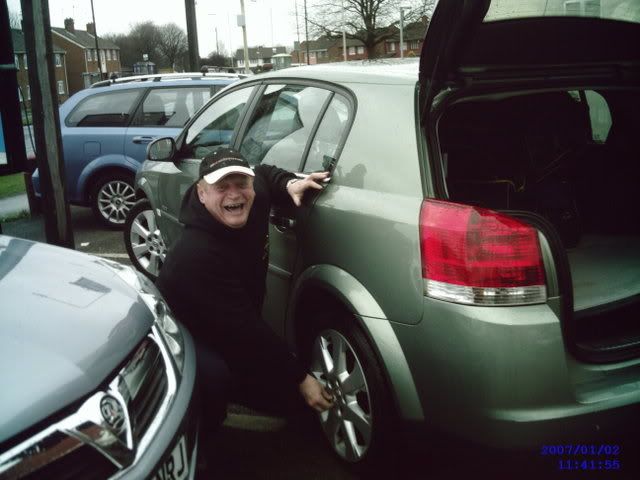 With 23 [s]idiots[/s] hardly souls waiting to get on with it I looked for a noted DRAWBAG to do the honours for me, Up stepped Larry Taypot and duly handed me peg 281 at the back of the Delta in the area i fancied for a few fish (thanks mate).
On arrival at my peg i had Harry911 on my left and Rivet "the non smoker" on my right...this was my first real worry as Rivet is not a small bloke and i smoke 30 roll ups a day!
After plumbing my lines at 10m and 5m the next thing to do was "test the water" in respect of the "smoking next to Rivet" plan...not much happened as i got my baccy out of my pocket and starting rolling up then just as i was about to light it i felt a hand dragging me of my box....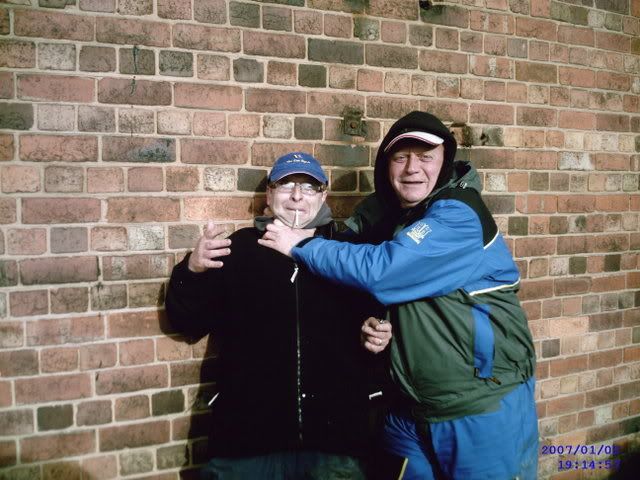 After convincing him that all the smoke would be going at 30 knots to the left away from him he released me and it was time to let battle commence.
At the all in i fed a bit of joker at 5m, a potful at 10m to my left and a golf ball to my right. i also fed a tiny bit of joker with a few casters at 10m down the track to my left so i could fish there for bonus fish.....by feeding to my left also meant i would be blowing the smoke away from Rivet.
With no bites inside after 15 minutes i was relieved to put a 1 ounce roach from the 10m line in the onion sack to avoid the dry net. for the next hour or so Rivet and myself were fish for fish until he hooked into something that pulled back, knowing full well that only kids and old men catch perch and its been a few years since Rivet wore short pants it came as no surprise when a 2lb billy came to the surface to put him well in front.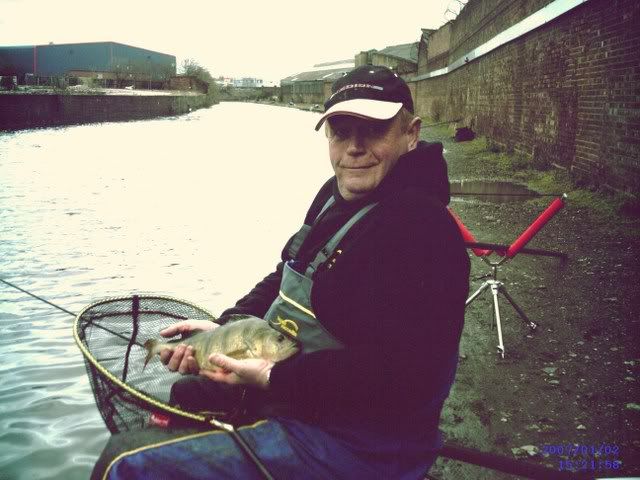 Thankfully for me Rivet was catching his fish at 13m and with the wind increasing it was becoming more and more difficult for him to get the presentain required, i promise i didn't find it even slighty funny on any of the occasions he got blew round on his box [smiley=rofl.gif] [smiley=rofl.gif]
As Rivet catch rate slowed down mine started to get quicker and at the all out i knew it would be close with both of us having 5lb or more but would it be enough with word coming through that Budgie, Sladey and Jay411 had all been catching a few.
First to not weigh in after throwing back his two perch was Drynet on the end peg, then came Phil Taylor with 4-4-4 to lead for 1 peg until Towpath2 put 4-6-8 on the scales who also led for one peg until Budgie on peg 267 put his roach catch on the scales at 8-5-3, i honestly thought no one would come close to this weight and so it proved for the next 8 pegs, (with brief scare on peg 270 when Sladey put 6-13-3 on)..
As i put my fish on the scales i was the most surprised person on the bank when they took the scales down to 8-10-7 (sorry Budgie)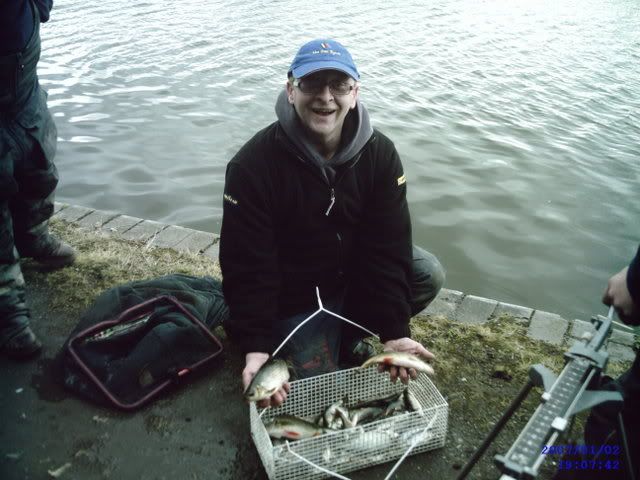 I was still convinced that Rivet "smoking Joe Fraser" had beaten me and i was very relieved when he only registered 6-13-12 to take 3rd place and last in the main money until Jay411 on the noted flyer peg 290 put 7-2-13 and take 3rd place.
result
1st £60 Woodhouse 8-10-7
2nd £50 Budgie410 8-5-3
3rd £40 Jay411 7-2-13
£20 each section winner
section1 Ad Slade 6-13-3
section 2 Bert Simmell 4-0-13
section 3 Rivet 6-13-12
section 4 Dayglowdelia 1-8-8 (I've got your £20 despite Jay411 trying to convince every one that section money should not be paid out by default)
Thanks for every one who turned up to make it an enjoyable day despite the crap weather.
And Happy 18th Birthday Sladey!