Just thought u guys might like to have a read of a report i did from sat tope fishin trip
enjoy!
Another days tope fishin aboard the lizzard from bridlington on satday,
we set of at 8am n a flat calm oily sea and no wind
stopped off for some fresh mackrel for bait on the way to the grounds but was very few and far between, with only a few small joeys for bait we carried on and dropped the anchor over 60ft of water with broken ground.
as the boat settled we tried to feather a few more mackrel, 2 good size mackrel came abored instantly, but no more followed :O(
we put out 4 uptide rods with mackrel halves out as 2 of us carried on mackrellin.
was only about 10 mins before one of the rods started peelein line off at a fast rate, tony picked up the rod and set the hook, the fish went steemin up tide and managed to shed the hook on a snag.
whilst riggin up again his other rod went off on a run , this time he managed to boat it, a crackin tope of 42lb for tony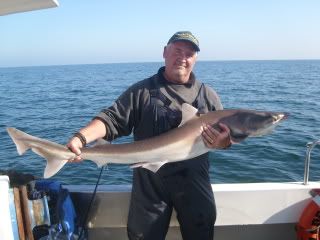 Foxes rod was next to go , a 25lber was quickly boated, foxys first tope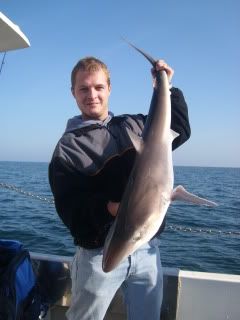 a hour or so later it was my turn with a 36lber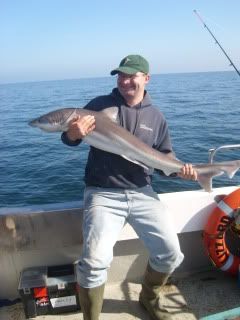 over slack tide we concentrate don gettin some more mackrel
we managed about another 5-6 just enuff to keep us going
Mark was too boat 2 tope in 2 chucks, one at 24lb and the other at 30lb, whilst tony lost yet another good fish around the anchor rope :O(
Foxy again with his new pb of 40lb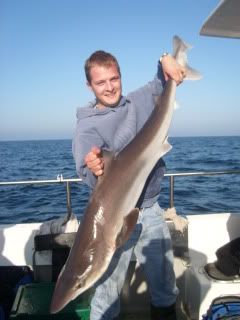 all the while we had a bass rod with a mackrel head out at the front end of the boat which had remained motionless most of the day, just as we was thinkin of packin up, the clutch on the fixed spool went screamin off so i picked it up and set the hook, the 1st run of this fish was around 80yds, and was just watching my line level on the reel drop at a rapid pace, i managed to eventually turn it with a bass rod that looked like it was gonna snap at any moment..lol
30 mins later i brought alongside the boat a crackin female tope of 48lb,
can honestly say it was the best fight from a fish i have ever had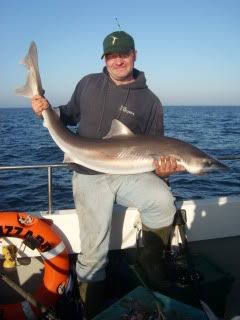 if we had a lot more fresh mackrel im sure we would of had a hell of a lot more tope onboard
great day
mack