Ok its finally sorted we are going with the design as per the one on the base of the box in the picture below.
Cost is £6-25 postage paid
When placing your order please state the name you require on your sticker which can be either your site name or your proper name.
I will be looking to place an order by the end of January and delivery should then take place before the middle of February.
I will PM everyone that orders a sticker with payment details this way you will know that I have registered your interest.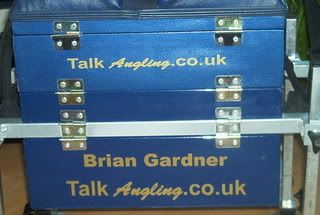 Names so far
Oneabung ( Simon Young )
Kingfisher ( Kingfisher ) Paid
Mout ( Nick Moutter ) Paid
Griffo ( Griffo ) Paid
Weldec ( Bill Harrison ( Weldec ) ) Paid
Wormaster ( CHED The Wormaster ) Paid
Mattsdad ( Norman Smith ) Paid
Hendo ( Dave Henderson ) Paid
Davidwhittington ( David Whittington ) Paid
Polemaster ( Steve Lile )
Larry Teepot ( Pete Taylor ) Paid
Steel City Cowboy ( $teel Cowboy ) Paid
Mpo38 ( Mark O'Neill )
Oneabung Snr. ( Roger Young )
Bushy ( BUSHY )