I am clearing out my floats. I have a lot which do not suit my style of fishing anymore as I only fish matches on a few commercials and mainly fish stickfloat or feeder on the rivers. I would rather they were sold or swapped for something I would use.
I will start with listing the pole floats I had in my desk. I have many more floats in rig boxes and still on winders to list when I get round to it. I will also have wagglers and stick floats.
The ones I am listing have been used, been stored on winders or just simply not used. All floats are in great condition though and do not have any defaults such as missing eyes, line cuts to body and have not been modified.
Pic. 1 - commercial floats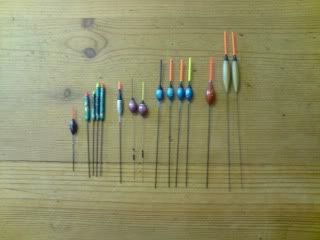 left to right;
1 x 4x8 Carp Devil
2 x 4x10 Milo (forgot pattern)
2 x 4x12 Milo (forgot pattern)
1 x 4x12 Map Series 6 (may have more in 4x10 and 4x12)
2 x 4x14 Preston PB14
4 x 4x12 Preston PB19 (more in other sizes later)
1 x 4x14 Trabucco (forget pattern name)
2 x 4x18 original Preston Chianti
2 x 0.6g Ultra Pex dibber (not shown but both new)
stillwater floats (roach)
2 x 4x12 Drennan Caster (wire stem)
1 x 0.1g Drennan Lake
2 x 0.2g Drennan Lake
1 x 4x12 original Preston Brio
1 x 4x12 original Preston Match Brio
Pic. 2 - deeper natural stillwaters (skimmers/roach)
bottom to top;
1 x Sensas Desque 0.7g
1 x Sensas Desque 0.5g
1 x 0.5g Preston Classic 1
1 x 0.8g Sensas Desque
1 x 0.6g Sensas Jean Desque
Pic. 3 - Colmic canal and river floats
Floats range from 0.75g to 2g. I don't know the pattern names apart from one which is a 1g Colmic Jolly, the others are mainly Serio Top Series.
I also have;
2 x 1g Preston Duraflot 3 (good deep water paste float) (others in smaller sizes to follow)
2 x 0.5g Drennan Tipo (coated with hard as nails without tips)
1 x 0.75g Drennan Tipo
1 x 1.5g Drennan Tipo
various Sensas Desque river patterns from 1g, 1.25g, 1.5g and 2g (not listed beacuse they are still on winders)
I also have a tube full of broken floats approx 40-50 (Preston, Drennan, KC Carpa, etc). These may be of use to people for parts for doctoring floats or to repair. If your interested make me an offer on the lot.
If you are interested in any floats just PM me. I haven't listed prices but they wont be expensive. if you would prefer I would be happy to swap for float patterns which I use. P&P will be extra charged at cost to the buyer.