I have secured some fantastic silicone float tubing to offer, some may have allready seen it listed for sale elsware, some may also own some and used it, me and my supplier have agreed terms which allows me to offer it for sale on here. So heres your chance to own some of this awsome float silicone at a great price.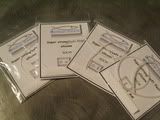 Silicone specs
Sizes of tubing ~
0.4mm, = 50cm
0.6mm, = 50cm
0.8mm, = 50cm
1.0mm = 50cm
Each Pack contains ~ 50cm of each size (2mtr in total per pack) each size comes in a labelled sealer bag for easy identification.
Colour ~ clear
The silicone is very strong but remains very very soft and line friendly, the silicone has allready been used by some top anglers and been labelled super silicone due to its strength and softness.
If people would like to purchase some silicone it is available now for despatch.
Cost ~ £2.50 per pack for info on delivery for small and bulk orders plz pm me.
Simply pm me with number of packs needed and with your paypal details for me to send an invoice to