thanks to member sackup we have a very simple to enter comp for you all ,
sackup deals in a few things such as floats and silicone for the floats , so has approaced me with this offer for you all
Details of comp
Up for grabs for the members of this site is 1 pack of super silicone, the pack contains 0.5mtr of each size and there's 4 sizes so 2mtrs in total.
Silicone specs
Sizes of tubing ~ 0.4mm, 0.6mm, 0.8mm, 1.0mm
Each Pack contains ~ 50cm of each size (2mtr in total per pack) each size comes in a labelled sealer bag for easy identification.
Colour ~ clear
The silicone is very strong but remains very very soft and line friendly, the silicone has allready been used by some top anglers and been labelled super silicone due to its strength and softness.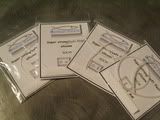 even if you dont win the comp and or can not wait till then you can purchase direct from him by just dropping him a PM
If people would like to purchase some silicone from him it is available now for despatch.
Cost ~ £2.50 per pack for delivery on small and bulk orders please pm him.
Simply pm him with number of packs needed and with your paypal details for him to send an invoice to
All you have to do to enter is post that they would like to be entered into the hat, 1st name out of the hat on the 10th of December.
as i said very simple , just leave your name below