First of all i would like to thank Les once again for his hospitality, and his new shower, great stuff Les.
I arrived on Sunday 12th July to be met by Les, greeting and hand shakes, bag in motor and away we went to Les's house. Got in and had a nice hot cuppa. We chatted for a while and Les suggested dinner, God i was starving. and what a meal, Lamb Shank in a tomato style sauce, carrots petit pois and cauli flower, piping hot, i was stuffed after it, but not stuffe anough to get a slice of bread to soak up the sauce, LoL. Later Les suggested a few beers dwn the club, LoL later on. I could not refuse his offer so it was showered shaved and out, It was about 8.30pm we got there. A few beers later Alec arrived for a tipple or two, a warm greeting and the usual taking of the pee. Great night as usual with the lads.
Back to les's and bed, my camp bed had to have a few minor repairs, :cryingeyes:
Monday 1st day fishing
Down to Lady Pit Farm stretch of the River trent, what a sight, great scenic stretch of the river, we were luck=y enough to get the Wier stretch, but in hindsight !. We arrived at around 11am
I was like a kid in a sweety shop, fumbling about trying in my eagerness to get set up, finally my gear was ready, I had 14mm halibut pellets hair rigged, on the hook i had my 4mm halibut feeder pellets in a PVA bag at the ready. I made a few casts to get the freeebies out and then settled down to chat. That went on for a while, a few moe casts and freebies. The barbel did not show at all, but i did manage a good perch of about ¾lbs, and here it is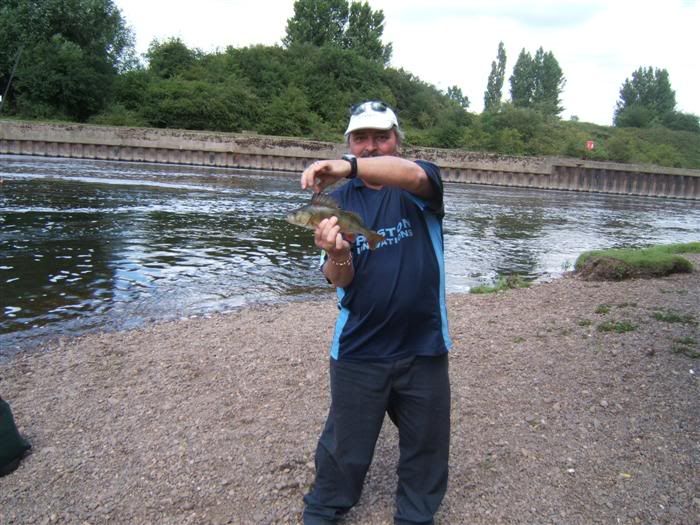 I must admit it was caught on Les's rod, he started to cast directly into the wier waterfall, perch were soon showing, Les in his kindness let me have a few casts, hence that little beauty. Les fared better with 5 or 6 perch
My peg on the Trent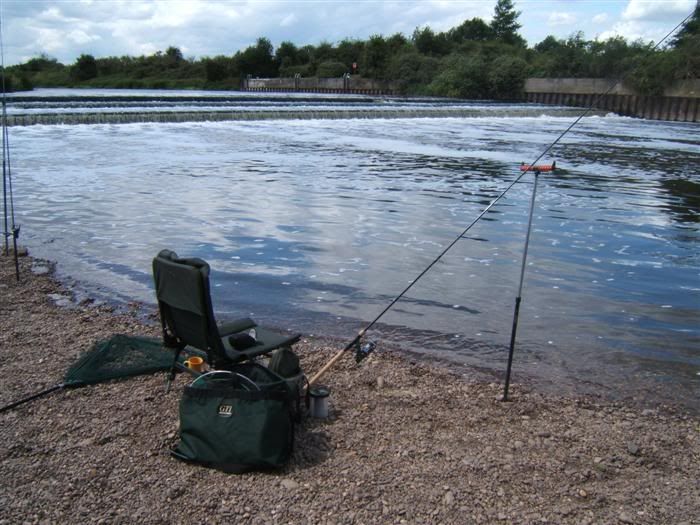 We decided to move to the more slower running stretch on the Meadow Section, but the pegs were taken. We decided to call it a day, back home to a nice shower and hot cuppa.
Tuesday.
Waggler fishing, maggot, pellets and bread were the baits of the day
Off to Blyton today. We had arranged to meet with Mark for the day. Mark as usual was very keen, instead of the agreed time he sent a text to Les saying he was leaving early
We got to the venue and Mark was there waiting, hand shaked and greeting ove we got our pegs.
The fishing was good, carp, skimmers and roach all day. Mark also done well, as did Les, we all managed to land carp, roach and skimmer,s
Marks Report, 5th post down
Mark with a fine catch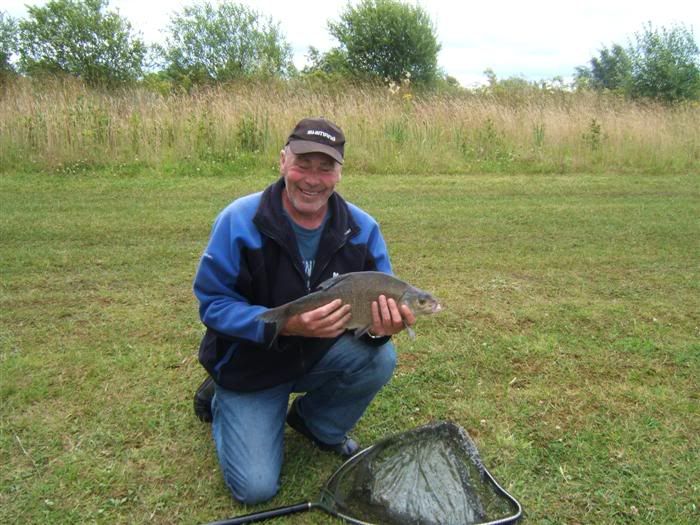 Mark chilled
We had a nice meal at dinner time and then back to fishing. The Heavens looked very ominous with rain later on, i think we all read each others mind and almost said together, lets go, LoL. We packed up and bade our farewells.
Wednesday
We made the drive to meet with Mark and Bob today at their club pons, Sutton Lane, a place i had fished before and done very well. I told Les about the place on the drive up. We got to Marks at last, Mark invited us in for a cuppa, then we left for the fishing.
When go arrived Bob was there setting up, a warm greeting and a great chat with laughter ensued. We were filled in with some news about the fishing, and goiung by the reports that Bob had done we looked forward to the day. I fished the feeder today. I had halibut groundbait laced with sweetcorn and maggot, for hookbait i had sweetcorn, maggot and worm.
The fishing was slow, very slow, i managed one skimmer all day. Mark done better with s few cracking bream, Bob also managed a cracking bream, Les did not catch ( i think ) at all. Yet again the wind and rain payed a part in the events of the day, Les and i decided to call it a day at around 3pm. We packed up and left for home.
The fishing was slow, but meeting with good friends for the day more than made up for it. Its always a pleasure, grat company, thanks again Mark and Bob.
Thursday, back to Blyton.
Waggler fishing again, baits used pellet,maggot,sweetcorn and floating bread.
Another cracking day for carp, roach, rudd and skimmer. I fished the margins as usual. I pre fed both side's on my peg in the margins with 2mm pellets. Hookbait was Sonu 4mm pellets.
Les and i were soon into fish. Raoch and rudd soon came to the swims.
Les left at 1pm to go and pick up Plimbob at the airport, the lucky had been to Majorca for a weeks holiday. I walked round to the other side of the venue and chatted with a club member. He was doing pretty good catching carp on floating dog biscuits and sinkinking biscuits. I chatted with him for an hour and a ½. Les was back in no time. Agin we were soon into the fish, more roach, rudd and carp. After a good day we packed up and left for home.
There was a group of youngsters on the pond today, A Police officer had organised the day for them with the Clubs Secretary. A nice group of lads. The young lad sitting on the peg next to me turned out to be a very quiet lad. I offered him some advice after noticing that he was having some difficulties in landing fish. I set him up with a 2BB waggler and pellets. I fed the margins for him, then put a sonu 4mm pellet on the hook, WHOOOOSH, the waggle sailed away, le had some fun landing a carp of about 3 pound, the look on his face was worth the time i spent with him, i got a picture for him on his mobile. That was it, i never had a minute after that, LoL, he was asking me thinks and generally chatting away. I did not mind at all, in fact i enjoyed helping the lad. H e told the police officer about my help and the Officer came to my peg to thank me, no need for thanks, but i felt good about it.
Friday.
Waggler fishing again, baits used pellet,maggot,sweetcorn and floating bread.
As we were expecting very heavy rain, thanks Mr Weather man, we made no plans to fish today, HOWEVER, the heavy expected rain did not materialise,. With a hasty decision we left for Blyton.
Wagler fishing yet again with the same baits as Thursday. Another good day, carp and roach soon came to the nets. Thw wind did pick up later during the day. We called it a day and left.
Saturday.
Waggler fishing again, baits as before.
We met with Bob today, well after a little panic, LoL.
Another windy day, and not very good fishing i'm afraid. we did land skimmers, roach and rudd, but the carp, well at least for Les and i, did not appear.
Bob had a good day, landing some cracking carp, roach, skimmers and rudd.
Here's a typical carp for Bob, grinning like a cheshire cat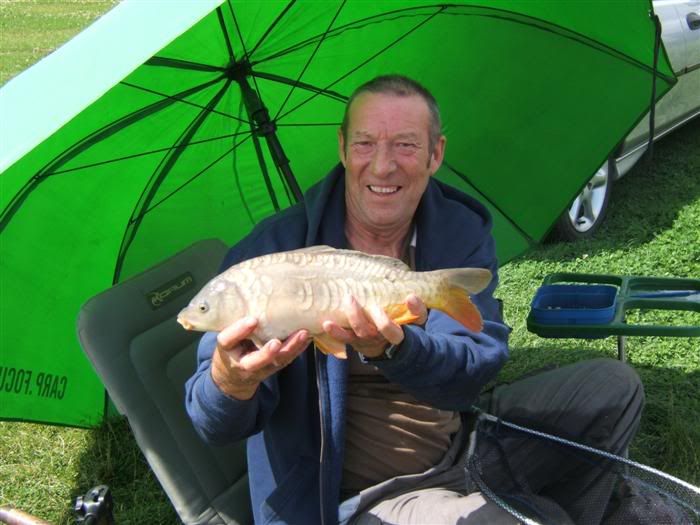 The day carried on with Bob doing the better, Les and i were struggling at the end to get a bite, Bob soon revealed his secret, he had sprayed his sweetcorn with some secret addative, LoL.
The rain came down at one point, a very heavy shower, in the distance we could see that it was heaving down, we also heard thunder. We soon packed up at 2pm and left for home.
Sunday, up and showered, bags packed and ready for home.
My week with Les, what can i say !
Another most enjoyable week with Les, great fishing, even though one day was spoilt by the wrong forcast, LoL.
Great to meet up wit the lads again, a great day with Bob and Mark.
Thanks yet again Les for a most enjoyable week, thanks for your very kind hispitality. Very much appreciated mate.
Picture time folks
A couple of skimmer's for me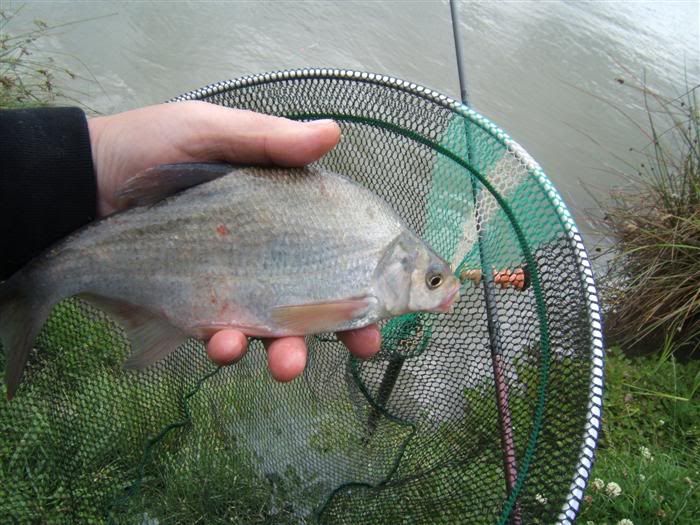 Les on his peg at Sutton Lane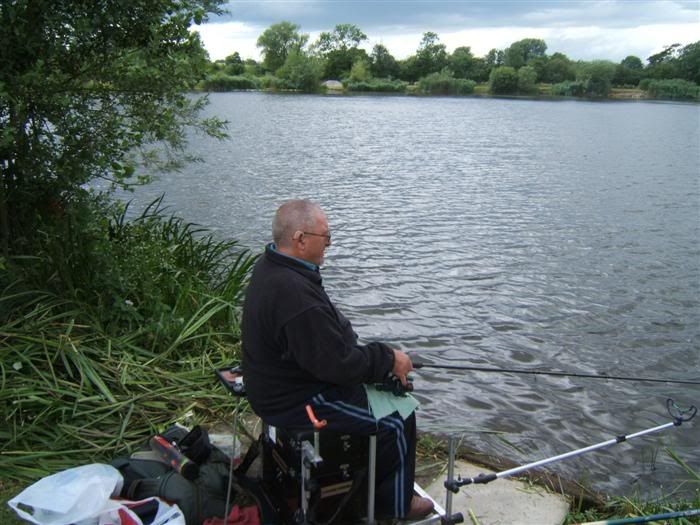 10Bob on his peg at Sutton Lane
A nice couple of carp from Blyton for me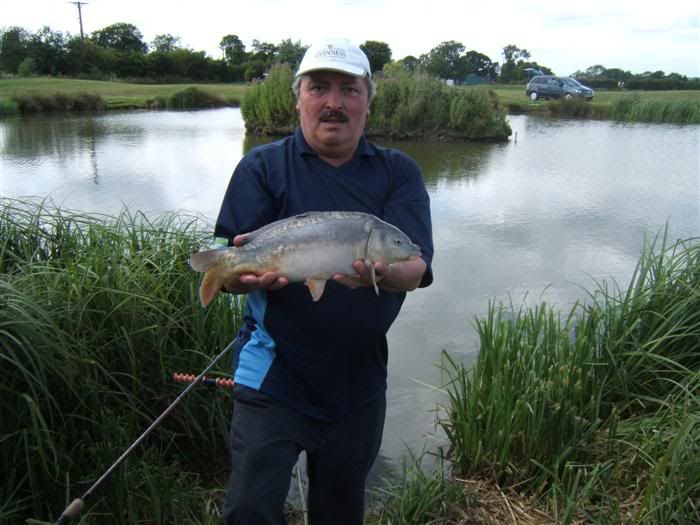 And last but not least, Les unpacking at Lady Pit Farm, River Trent