Monk Lakes. Match Lake 2
Saturday 19th August 2006.
Having dropped Maria off at work at 6am and then loaded the car up, I took a leisurely drive down to Monk Lakes arriving earlier than anticipated at around 8am. Once again Simon and the staff at the fishery had put the "Welcome" sign out, and after parking up I thought I'd take a quick look at match lake 2, only to find that Terry (wily) Clive (blackhydro) & Darren (badatfishing) along with RonB had beaten me to it.
A quick look confirmed that you would either have the wind full in your face all day or off your back depending on your draw.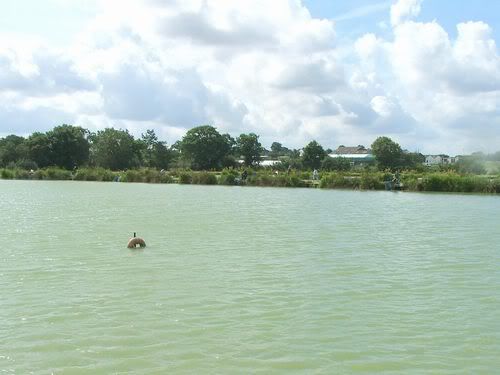 Some seemed to fancy peg45, whether for the short walk or the fact it was a corner end-peg was open to debate. whoever drew it would have the wind full in their face however with very little chance of getting a brolly up should the threatened bad weather appear.
Back for a bit of breakfast and the draw, and pulling into the car park is a familiar white Carlton estate signaling Dai's arrival from South Wales for his 1st outing since he had his operation. He'd spoken to me a couple of days earlier saying that he fancied it having not been out for months, and my mention that he just might just finally catch a
GOLDEN TENCH
here, probably made his mind up though.
At the draw Vince announced that the previous match had been won from peg 45, so you can imagine just how delighted he was to see it resting in my hand when I pulled it out of the hat
.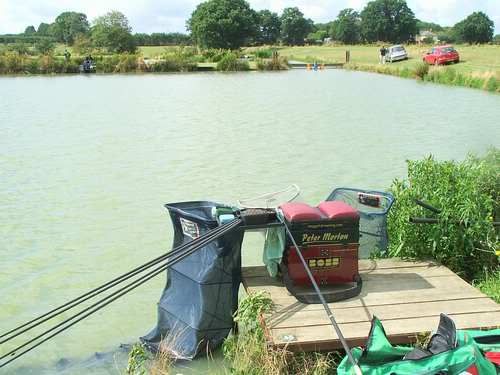 Setting up it was obvious that fishing long up in the water would be hard work, and as I had been off work for the previous 3 days with a pulled muscle in my back it wasn't really an option for me. Plumbing up though revealed a good 2½ feet on a top 2 line with just 3 feet at about 5 meters.
With every other peg missed out I was pretty sure that I could catch close, so made up my mind to go for it from the off, and with clive (blackhydro) to my left setting up to fish further out I would be able to see if I needed to lengthen my line as things progressed.
11am and Vince called all-in and I fed 3 lines, 2 just a comfortable underarm for 4mm pellets and another cupping in at 5 meters. Baits for the day were just GOT 6mm expanders and Paste, but before I could put a pellet on a shout from Dai had me running down the bank to capture this moment.....
.......... Just the sort of thing that makes it all worthwhile, the smile wouldn't leave Dai's face for the rest of the match.
Back on my peg and I dropped the top2 rig in and the float just kept going!! Had I overshotted it? obviously not as the black hydro streamed out of the top. 30 seconds later and an 8oz Barbel is safely in the net and I'm off and running.
Looking around it was soon evident that plenty of people were putting a few fish in their nets and miraculously the wind was holding the threat of rain off despite plenty of grey clouds scudding past.
It soon became evident that my peg appeared to be solid with small Barbel, super fit fish in perfect condition that gave a good account of themselves on soft set Black Hydro.
Now a constant bone of contention on forums is Barbel in stillwaters, I can only say that these fish in Monks are as fit as any that I've caught in rivers over the years and appear none the worse for wear due to their environment.
Indeed they have been bred at the fish farm that adjoins the Monk Lakes complex.
Sport was steady and with 3 and a bit hours gone Dave the Fish came along for his customary chat while he had a sarnie, and admitting to around 40lbs for his efforts so far. I estimated I had around 100 fish split between my 2 nets and decided to use a 3rd net for the final part of the match. getting up to reposition my nets, I slipped!!!!!! Both feet straight in past my ankles
, thankfully I had a spare pair of boots in the car, so a quick time out to change and sort things out left me with around 1½hrs to go.
Thankfully despite this disruption they were still there and I caught steadily right up to the end at 4pm landing my last fish as Vince called the all out.
Weigh in time, and our bank had obviously been Barbel Alley, Dave starting off with 65lb just edging RonB's 63lb. Dai proving he was back in the groove putting a very creditable 81½lbs on for a section win and a new Pesonal Best match weight, clive just missing out with 78½lbs.............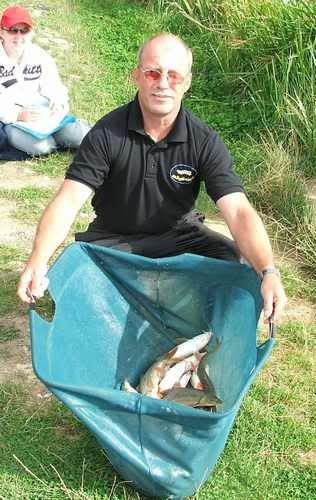 My 3 nets totaled 100½lbs putting me into pole, but with Nick Gilbert admitting to 80lbs or maybe a tad more I had my doubts as to whether it would be enough.
Next up was Polemad who had been opposite me, just missing out on a "TON"
with 95lbs.
Then we came to Mr Gilbert. What can I say? other than
"I'll NEVER BELIEVE ANOTHER OF HIS ESTIMATES AGAIN!!!!!!!"
as his 80lbs guesstimate transformed itself into
170lbs
. a superb weight on the day comprising of nearly all carp as with the wind behind him he had been able to catch up in the water on banded pellet all day. It proved to be Nick's biggest ever match weight making him a worthy winner and MD's Southern Champion 2006.
The rest of the weigh-in produced yet more weights between 50-80lbs
Even Vinces daughter Jessica managing a creditable 21lbs with dad's help......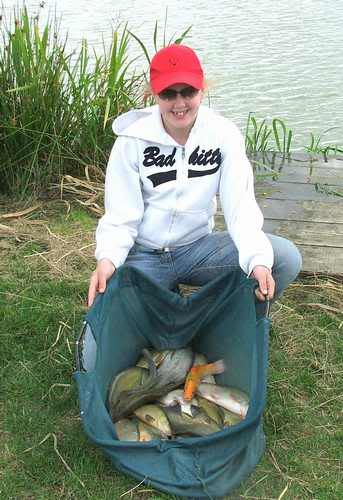 While Vince himself despite spending time with Jessica putting together a nice bag weighing 52½lbs.......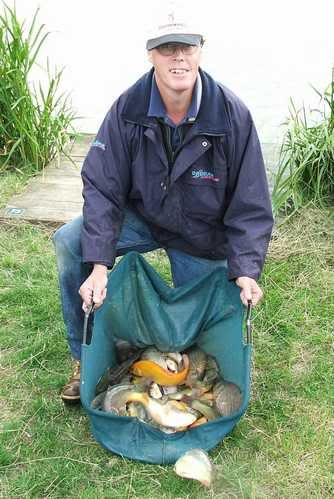 So back for a welcome cuppa and the results revealing that the 16 anglers present had put 1120½lbs on the scales, an average of over 70lbs+ per angler Quite amazing really.
1st....Nick Gilbert................ 170lbs 00ozs
2nd....Peter Morton............. 100lbs 08ozs
3rd.....Polemad..................... 95lbs 00ozs
4th....Dai Fish...................... 81lbs 08ozs
5th....John Brimicombe........... 80lbs 08ozs
6th....Black Hydro................. 78lbs 08ozs
7th....Chris Withall................ 70lbs 00ozs
8th....Dave the Fish.............. 65lbs 00ozs
9th....Badatfishing................ 64lbs 00ozs
10th..RonB.......................... 63lbs 00ozs
11th..nomorelongwalks.......... 57lbs 08ozs
12th..Wily Coyote................. 53lbs 00ozs
13th..Vince (vg1037)............ 52lbs 08ozs
14th..Colin the Pike.............. 44lbs 08ozs
15th..Kevin the Catch........... 24lbs 00ozs
16th..Jessica....................... 21lbs 00ozs
All that remains is to say a
BIG THANK YOU
to Vince for organising the day, and all those that turned up to make it a most enjoyable day, I'm sure we'll be doing it all again in the not to distant future.