What a start to my holiday at the airport, Anouncement over the loudspeaker.
Ladies and gentlemen the flight to Belfast international has been held up indefinately, oh hell that's my flight, !!!!!!!! i sat and pondered the coming hours, .
I thought i may be in the airport all day.
I then started to watch Pirates of the Carribean 2 on my zen player for around 35 minutes, yipppeeeeeee it was only a 40 minute delay, the incoming plane attempted to land twice but the weather stopped the landing, so they diverted to a nearby airport. I called Ron and let him know about the delay
At last i boarded the plane bound for Ireland.
At the airport i was greeted by the two muskateers, Ron and Mark. back to Rons house yet again, another warm welcome from his two lovely kids after they arrived home from a neighbors house, Shona his wife was at work
We had a few beers on Thursday night with Sammy and Agnes, Ron popped down later
Friday up with the larks yet again, quick cuppa and some toast, rhen the car packed and away we went.
Pegs 5/6/7 were to be our pegs of the day, I had peg 5, ron had 6 and mark had 7
My peg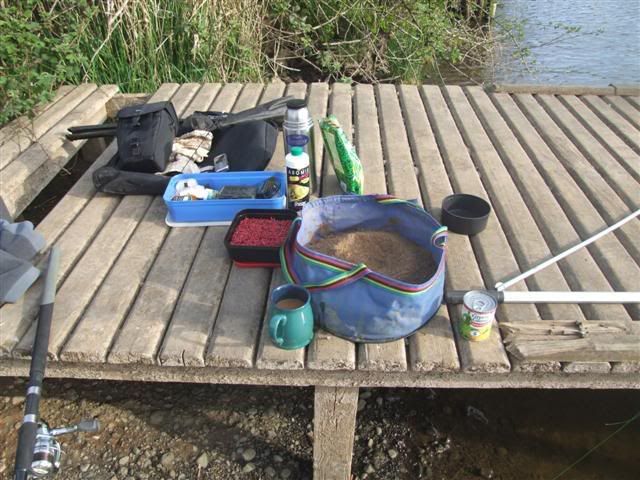 And looking down on it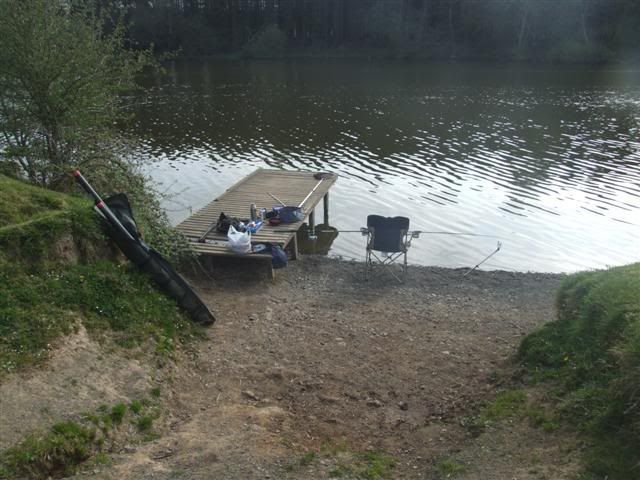 And my rod tip which remained like this all day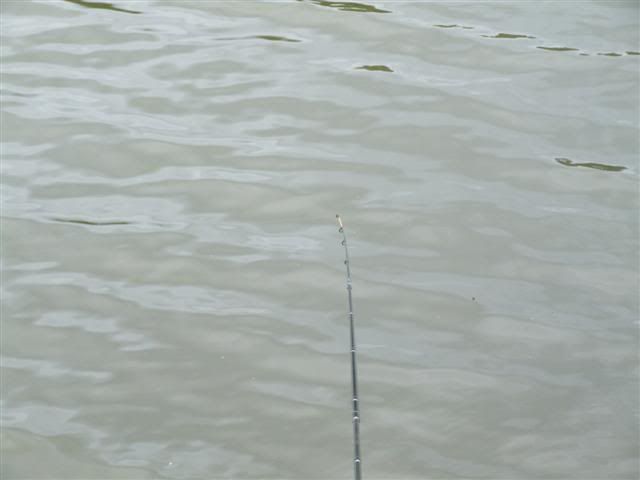 I did manage some fish on the day, i managed to land 8 roach, and this bream poached from Rons peg
The day continued to produce fine bream for the two muskateers.
I as always had the job of cooking the sausage's for our usual breakfast sandwiches.
Mark with a bream
Time was called, all packed up and back to Rons house, when entering i was greeted by Shona, a warm welcome as ever from her.
After tea and a shower, it was decided to go to the locakl for a few beers, well a few turned into a lot. Greg and his partner Kerry popped in to see us.A great night vhatting, LoL. We left the bar at about 1.30am, home to Rons rather the worse for ware, LoL
Saturday
Up at 6am feeling like death, that's beer and late nights for you, after a cuppa and some toast we packed the car and left for Newferry.
Once there we chose our pegs. Here's mine, i took the picture at feeding time LoL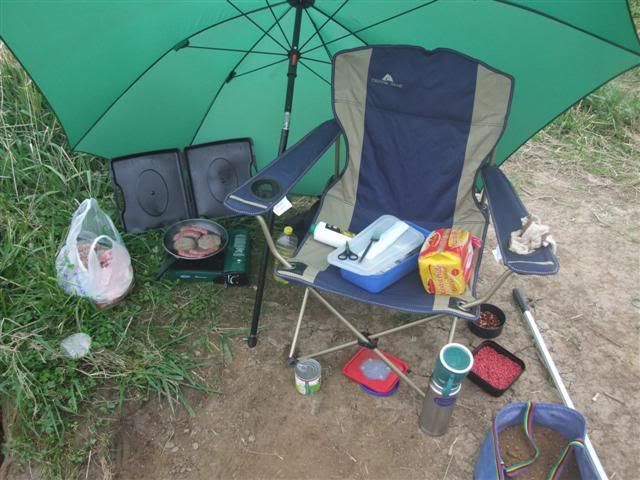 Ron chatting to Mark here on day2 at Newferry.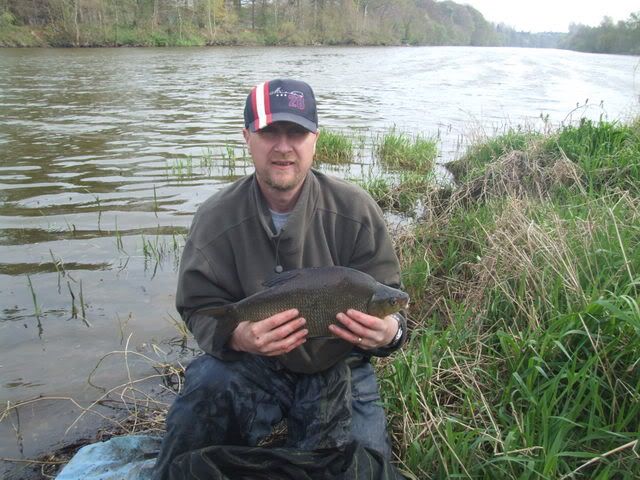 Ron and a bream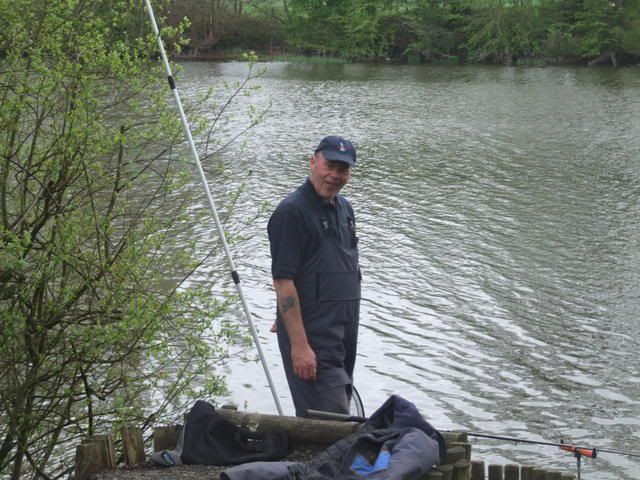 We all managed to catch fish, Ron had the better day again, Mark and myself strugged, roach and perch fell to Mark, i had roach and skimmers.
We called it a day at around 3.30pm, all packed up and back to Rons after stopping off for a fish and chip supper at the local chip shop.
Sunday saw the day of the match, We were kindly invited to join in with the club match, Greg sorted it out for us
We arrived for around 8.20, rather late for Ron LoL, Pegs fee's paid and we picked our pegs. i pulled out peh 46.
We met with some of the club members, seemed a good set of boys, full of help and information.
To the pegs and tackled up, TIME LADS, ALL IN came the shout, the contest began, balls of groundbait were thrown in around 6 from me, then i started te put feed in thru the cage feeder, Remember me saying my rod tip stayed put just about all day on Friday!!!!. Well on Sunday it did. Not a bite all day, nothing, zilch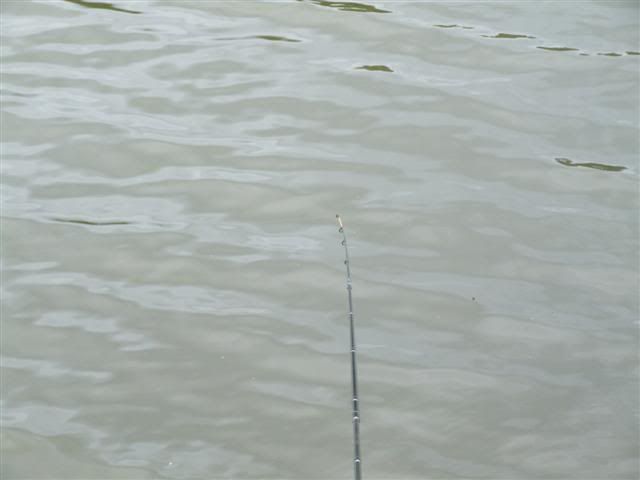 One of the club members won the match with a net to over 14lbs
My peg
Not a bite all day, nothing, i was not the only one Mark and another angler blanked also.
but thats fishing, no use in moaning about it, and certainly not to be scoffed at.
Some of my opponents
Greg setting his pole up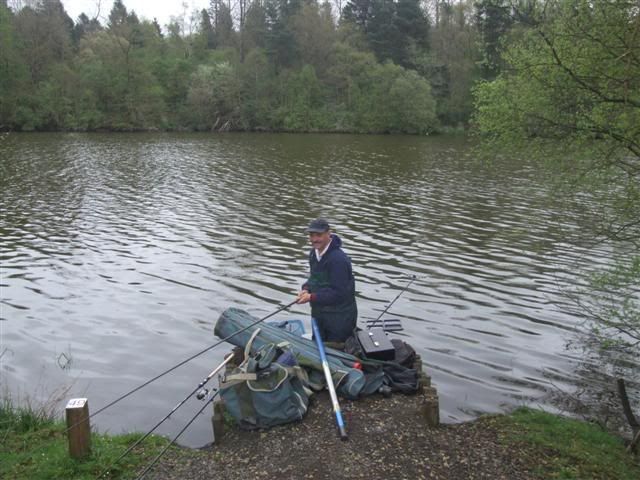 A club member setting up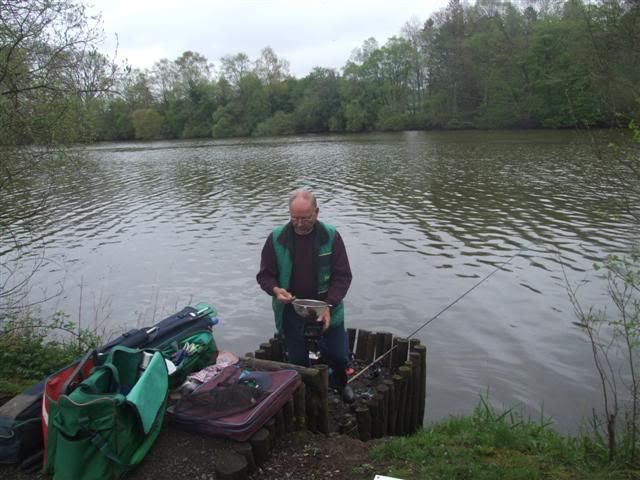 A club member taking time out for a picture
Thanks for the pose fellas.
Behind us was a large field, there were 4 horses in the field and this fine mare had a go at biting my hand off LoL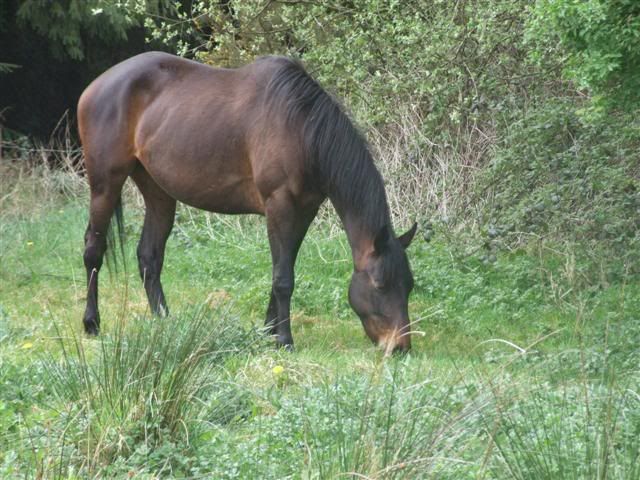 Feeding the birds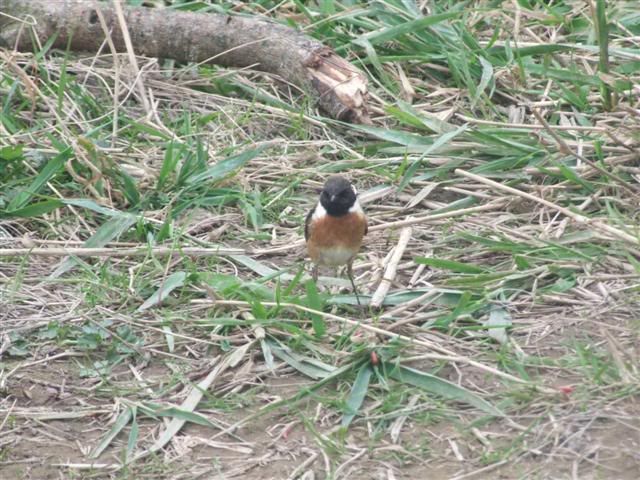 Monday , well that saw me visiting the sights of Antrim with Sammy and Agnes.
Another enjoyable break in Ireland with Ron and his family, and Mark as ever for company, The fishing was poor, but the craic was mighty as ever. The sights i saw on Monday, they will remain with me for a long time,
Thanks to Ron, Shona and the two smashing children, Becky and Nikky
Oh Marlk and Ron did go fishing and they did catch fish, but hey thats fishing LoL, i was only happy i went sight seeing. Oh and they went hungry that day LoL.I had TWO HUGE meals with Sammy and Agnes during the day out.
Thanks mate