Hi folks, think i'll use this thread as a place to put some of my fishing trips
today i went to The Riddings fishery near Tamworth, fished a pool called The Folly ( my fav. pool ) a couple of knocks & after 20 mins a small roach around half a pound or so. a few more odd bites but not another fish until 2:00PM ( been there since about 7:30AM ) , i was about ready for packing in because it was so dead, but i'd been steadily feeding small particles of bait against the end of a small tree's branches only about 5 feet off the bank. so before packing in, i decided to have a go by the tree, bunged 4 red maggots on a slightly bigger hook, float in, seconds later bite on, after a few mins of fighting a 7lb mirror in the landing net
Threw a bit more loose feed in, dropped the pole rig in place, instant bite again, out goes the elastic, after about 25 mins & a lot of aches & pains caused, a 10lb common in the net ( took 3 attempts to net because the net's to small ) have caught bigger carp, but that was the hardest fighting carp i've ever netted.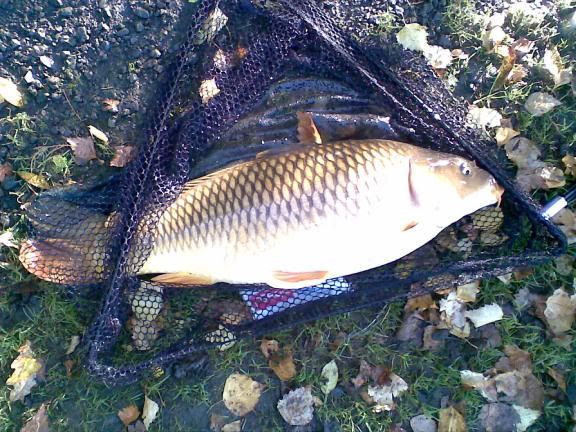 Rig back inplace, off again, stretched elastic & off the fish fell
, try again, within 10 mins another mirror in the net, didn't weigh this one, but i recon it was between 3 & 4lb. feeling happy now, few more missed bites, decided to put some more loose feed in, so made the mistake of putting the pole down on 2 rod rests with the float just left in the middle of the water, threw the maggots, heard a strange sound & turned to see my pole air-born 20 yards or so out across the pool!
but luck must have been on my side for a very rare change, because a kind Carpie rescued my pole from the other end of the lake before it had chance to sink
happy days.