Hartleylands Farm Fishery
Friday 22nd September 2006
Having a bit of time off I was pleasantly surprised when Maria suggested i might fancy a days fishing last night, as she was going over to visit a friend today. I should have known
After my disaster at Lemington last Saturday I really needed to catch a few just to get the confidence back, so it was off to a favorite of mine ............ Hartleylands Farm.
So 8·30am brings a nudge in my back as my beloved asks whether I'm going fishing today?
A peak out of the window reveals it's been pouring down all night, but a hint of sun breaking through promises better for the day ahead.
By 9·15 the car's loaded and I'm on my way with a clearing sky, but as I reach Tonbridge the sun has vanished and the sky is getting greyer.
Reaching the fishery about 10·30 I'm a little disappointed to find a match on the reservoir, so that's the 1st plan scuppered. A steady drizzle is starting to fall as I have a look around and a chat with a couple of anglers that have already been fishing for a couple of hours with only a couple of carp to show for their efforts between them. I settle for peg 8 on Finches, sheltered amongst the trees and with a comfy 8yds to the far bank it will do for me .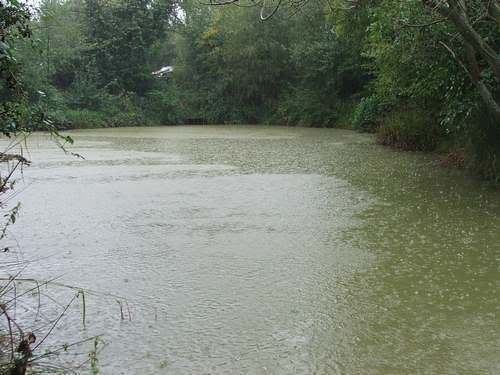 Before I've even finished setting up, the rain starts hammering down, so just a couple of simple rigs are set up, 1 for paste and the other for 6mm expander pellet both to be fished over 4mm pellet (all G.O.T baits) both across and in the margin to my left.
Both rigs are KC Carpa 2's on 0·16 carptek with Fox match series2 in a 14 for paste and a 16 for the expanders.
1st put in across with paste, and 30secs later the float has buried and the black hydro stretches out and safely into the net is the 1st of the day, an nice ghost common
.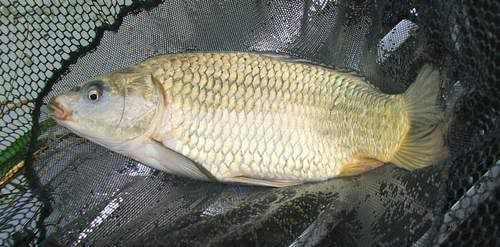 A couple of looks over with expander produces a couple of gudgeon, so back to the paste. This is definitely what the carp want with most bites coming within a minute of cupping the paste in, and the bites are nice and definite, no messing about with the float, just vanishing straight down the plughole.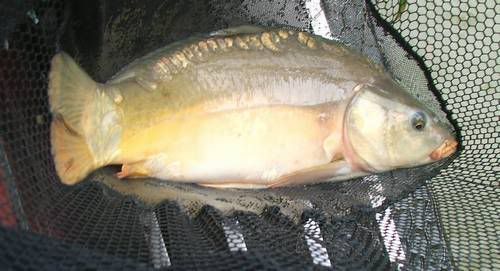 With the rain still pouring down I get a phone call from Dave about 12, and he remarks that he can hear the rain, but it's lovely in Leeds. The action that I've been having encourages the chap in the next but one peg down from me to come over for a chat to see what I'm doing differently from him. 10 mins under the brolly showing him how to prepare expanders with a pump and explaining the basics of paste and he's off back to his peg with a box of prepared expanders to give them a go.
Back out with the paste and the rain is starting to ease, but the carp are still there
.............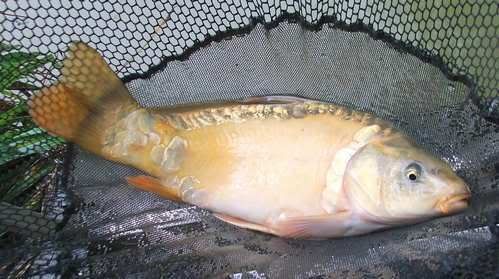 By 1·30 the rain has finally stopped but because I'm under the trees it's still coming down on me, so a move is called for if I'm ever going to get anything dried out. A quick look over the back reveals that there are only 4 anglers on Nick's, so I move all of 10yards onto Nick's peg 3. With nobody on the adjacent pegs it was going to be margins all the way and 1st put in on the right hand margin produced an instant bite resulting in a super common gracing the net .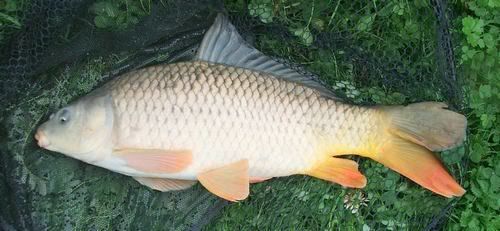 The afternoon proved to be fairly hectic, I doubt if I had to wait much more than 30 secs for a bite on paste, with most being so positive that the elastic just streamed out without any need to strike, smaller fish in general than those in Finches, mostly commons but occasionally a nice example of the resident ghosties putting in an appearance
............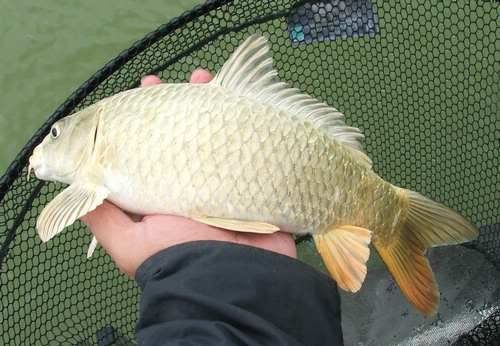 4·30 and as I'm packing away after what has been a good confidence building session Paul Ward, the owner pops round for a chat, always interesting, he tells me that he's finished digging another new lake and is just letting it fill naturally as he's in no hurry to stock it yet.
Packing up, thankfully almost everything has dried out and on the way out I decide to stop and have a look at the new lake.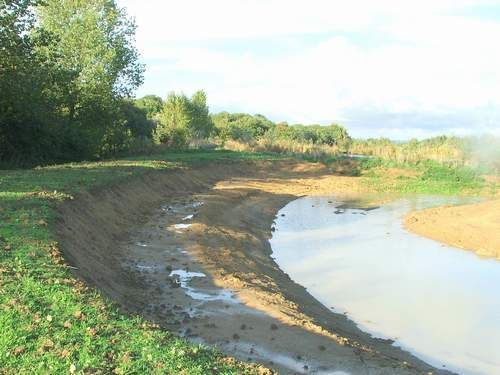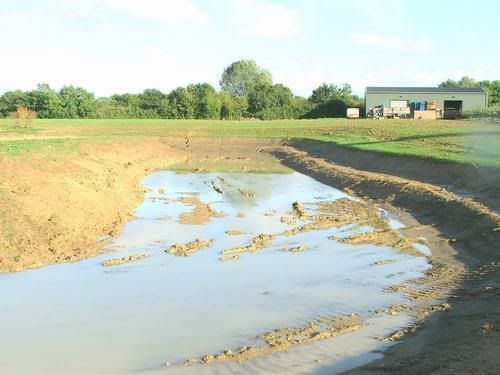 As you can see there's a quite wide marginal shelf around 2-3 ft below what will be the water level and it then drops to around 6-7ft, while it just rises up to the island without a noticeable shelf.
It promises to be another decent addition to the fishery once it's up and running, probably not until the back end of next summer though at the earliest, as Paul likes to let things settle and establish themselves before he allows fishing.