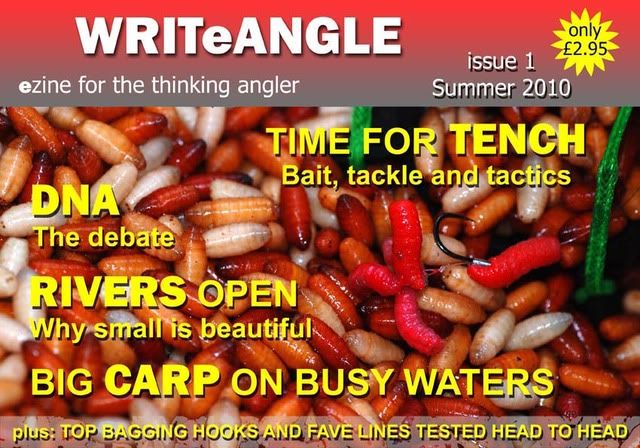 Hopefully many of you will know who I am, some of you will know me personally, but some may not know me and will need a brief introduction.
I am a Moderator on TA, have been an angling film maker since 2005 and worked as a photojournalist on most of Europe's top angling magazines since 1997.
Along with a select few trusted friends, who are also freelance photojournalists, I have put together an ezine. The first issue is out now and you can view the contents page and a sample of an article here:
http://www.writeanglemagazine.co.uk/...2010sample.pdf
The mag will be issued seasonally for the first year at least, plus I will produce some one-off specials. There will also be some single article film clips looking into specific areas of technique.
Each issue of WRITeANGLE will contain three feature length articles, plus the eight other regular articles. Every page is laid out as a double page spread, so in effect, a three page article contains six pages. This layout makes more sense for reading on a computer screen.
The first issue does not contain any advertising, some will be pleased about that, I'm sure. I do intend to carry adverts in future, but they will be a mixture of block ads on a single page and more subtle ads embedded as crucial parts of the text of articles.
For instance: in an article about fishing with pellets, there may be a web address for a pellet company written into the article. This address will be a live hyperlink, enabling you to go direct to the home page of that company from the magazine. That follows for every link in every issue of the mag.
I do not intend for articles to be a showcase for any manufacturer's products. Sponsored anglers can appear in an article, with a break out box at the end of the article outlining the gear they use. In the main body of an article, any reference to tackle will be more generic, explaining why a certain design of gear is important, rather than simply pushing product.
The whole ethos of the magazine is to be thought provoking and to explain how and why, not to simply be a shop window for the latest bit of gear.
Of the regular articles, Matchman's Peg and Carper's Corner will alternate between an issue-based piece and a technique piece. In the Summer 2010 issue, for instance, Matchman's Peg debates how important International matches are for anglers in the UK. Carper's Corner looks at fishing the Zig Rig for surface feeding carp.
There will always be one of the main feature articles looking at 'natural' waters. I say 'natural', because that includes canals and reservoirs. WRITeANGLE will not be full of carp on commercials with silvers on commercials as a change theme.
In this area of the Talk Angling forum, I would like to promote discussion of any points raised by articles in the magazine. Feel free to post in here if you agree or disagree strongly with anything in the mag.
The Debate article is designed to allow a voice to anyone who holds a firm belief in a contentious issue. There may be a follow-up Debate to allow an opposing point of view to be aired.
Should anyone fancy a try at writing an article, drop me an email and I will send you my guidelines for submissions. I am certainly interested in allowing new writers and photographers the chance to get published.
On purchasing an issue of the magazine, I will email you a link and your personal access code for the issue. You can view the mag and print a copy if you so wish. You will only be able to view the mag from the single computer on which you purchased the copy.
I will generally mail copies out between 5pm and 7pm each day, although it may not be possible to do this every day. In any case, copies purchased will be delivered within 7 days maximum.
If you have any questions about WRITeANGLE magazine, please drop me an email to
[email protected]
, or start up a new thread in this section of Talk Angling.
Steve