Thought I'd share a few photos of my latest mountain walk which was The Old man of Coniston in the lake district. A 5 hour 8 mile walk which consisted of the summits of the Old man @ 803m & Dow Crag @778m plus 3 lesser crags in a circular route. Weather was sunny intervals with a breezy 25mph wind on the summits which made it neccessary to break out the wooly hats in the cold breeze.
Nick on lower slopes of Old Man
View of Old Man from Black crag
Paulscatt on summit of Old man
Nick & Paul on summit of Dow crag. Lake Coniston in background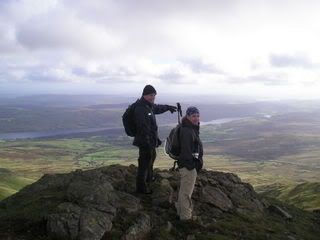 A pint in the Sun Inn @ the bottom of the mountain followed by eating fish & chips and watching anglers sea fishing into the Estuary just outside Ulverston rounded off a good day out. This walk was probably the easiest walk completed this year & the last mountain walk by my group of workmates until the Spring.